How I Went From $0 to Over $1,000 on Fiverr
5 proven methods that worked for me
I've made over $1,000 on Fiverr. In this article, I'm going to show you how.
In the last few years, I've experimented with all kinds of ways to make money on Fiverr, the popular gig marketplace. Fiverr has a bad reputation for being a cheap platform with paltry payment for content creators.
But I've consistently made hundreds of dollars with Fiverr.
Although I did a lot of research, I learned most of my lessons the hard way. I always wanted to make decent money on Fiverr as quickly as possible. Over the years, I learned five ways to make money faster on Fiverr.
Here is my story (and those five shortcuts).
Note: None of the links in this article are affiliate links. The links are provided for your information.
1. How To Start Strong on Fiverr
The first step to making money quickly on Fiverr is to set up a Fiverr account and fill out your profile completely.
This is very important.
I made sure that I used a good, clear profile picture that showed my face. I wrote a short, clear bio that highlighted my expertise or experience.
Here is a screenshot of my latest profile: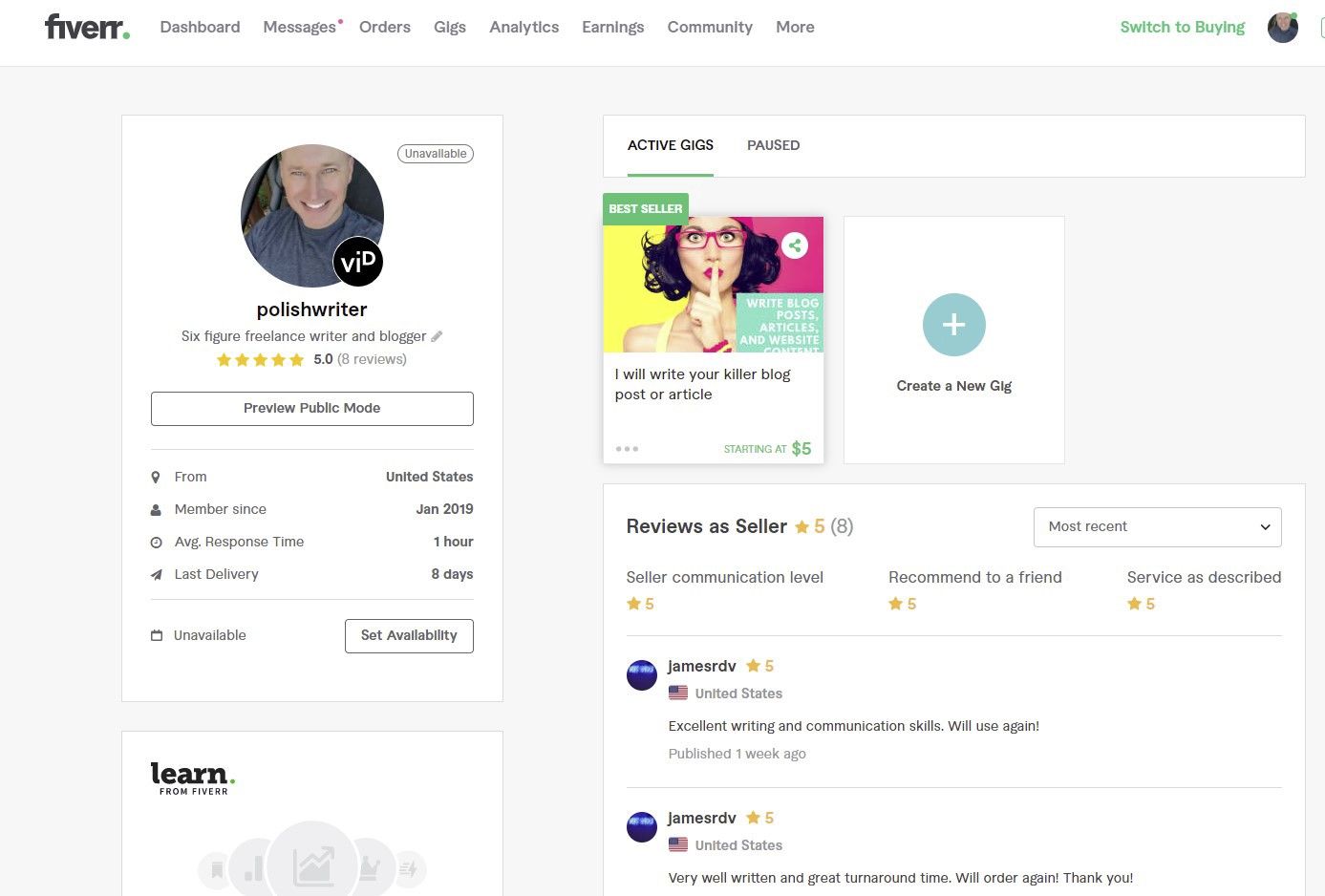 The most important thing is that you fill out your profile as completely as possible. Create at least one gig, and add pictures, video, and a complete gig description.
I made a video where I walked through a lot of the setup details on Fiverr. I won't go through all of the details here, because I want this article to focus on how to make money quick on Fiverr.
By completely filling out your profile, you make a good impression on Fiverr. You get the algorithm working in your favor. It's going to be harder to make money on Fiverr if you don't lay this foundation.
So don't skip this critical first step.
2. Build Easy Gigs by Monetizing Your Existing Skills
The second step is to find services that you can offer and complete quickly. I don't know your specific skills, but monetizing your existing skillset is one of the fastest ways to earn money on Fiverr.
If you're a programmer, fixing WordPress problems might be super easy for you. If you're a great writer, writing 300, 500, or 1000 words might be super easy for you.
If you know how to build landing pages, if you know how to proofread and edit work, if you know how to create a 3d book, or book cover image, start with that gig.
If you find something that you already know how to do very easily and quickly, make a gig out of that service.
Monetizing what you already know how to do is going to be one of the simplest and quickest ways for you to make some money on Fiverr.
For me, the obvious choice was writing and editing. Over the years, I created gigs to write articles, craft product descriptions, and edit everything from full-length books to screenplays.
However, most of those services took way too long.
So I settled on writing query letters, which are book pitches to literary agents. Agents, in turn, help you get your book published.
The great thing about query letters is that most of them are 500 words or less, so I can easily write one or two per hour.
I'm going to go over some other tools that you can use to speed up and even automate the process of making money on Fiverr quickly. But, I'd be remiss if I didn't recommend that you focus on your specific skill sets. Odds are that you know how to do more things than you think.
Virtually anything that you already know how to do can be monetized on Fiverr.
Before you go any further in this article, stop and make a list of all the things that you know how to do.
Ask yourself:
What do I know?
What topics do other people ask me about?
What did I study in school?
What projects have I done at work?
What am I good at?
Where have I earned awards and recognition?
What courses have I taken?
3. Automate, Automate, Automate
One thing I've learned about Fiverr is the quicker that you can complete a service, the more orders you can take, and the more money you can make.
I always focus on the gigs that I can complete very quickly. If I can finish a gig in under an hour, I can do more than one gig per hour. That way I can make more money per hour.
One great way to speed up your gig completion is to automate.
There are definitely levels to automation, and one of the first levels is simply to develop systems and templates. When I started writing query letters, I quickly developed around five templates that I consistently used over and over again.
The words and ideas in each of the letters were unique to the story, but the structure and elements of the query letters remained largely the same.
I even developed lists of words and sentence templates so that my query letters were virtually fill-in-the-blank. Yet, they were still completely original and many of my clients went on to attract literary agents and publishers.
Here are a few ways to automate your gig services on Fiverr:
Create repeatable templates for your gigs.
Create a series of customer response scripts that you can copy and paste into the messaging feature on Fiverr. You can create scripts for welcoming a new client, updating a client, answering frequently asked questions, and delivering your final order.
Create a "swipe file" that holds all of your regularly used communication and templates for easy access.
Ghostwriting query letters was one of my most successful Fiverr gigs to date.
I would go on to discover two more tools to completely automate Fiverr services. I've described those automated methods below. None of the links to the tools are affiliate links.
4. My Favorite Free Tool To Make Money on Fiverr
One of my favorite tools to make money on Fiverr is Canva. There's a free version and a pro version. I have the pro version because I use it for all of my images on YouTube and my website.
However, you can use the free version.
What I love about Canva is that the website does most of the work for you. There are hundreds (maybe thousands) of pre-made templates. All you have to do is pick the template you want, change the text, and send it back to the customer.
It almost couldn't be easier.
Here are only some of the ways to use Canva to make money on Fiverr:
Video presentations
Book covers
Ebook covers
Infographics
Flyers
Logos
T-shirt designs
YouTube intros
YouTube outros
Social media posts
Animated social media posts
You can create these animated posts for people that don't know how to do it themselves or simply want to outsource the task to you. You can create the posts for them absolutely for free. And these posts look really good.
Here's a screenshot with examples (look across the top of the image):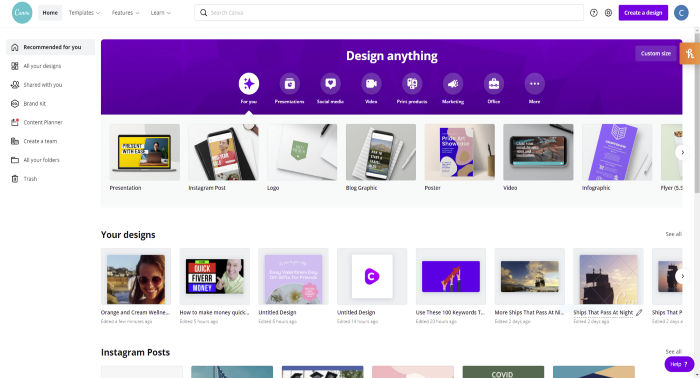 Canva offers the templates already put together. You don't have to know any graphic design at all.
Let's make one of these templates so I can show you an idea of what you can do with Canva. You simply scroll through the options until you find the template you want: food, wedding, birthday, animals, etc.
You can even make a video Pinterest pin (or Gif, as in this example):
Canva does everything for you. You can change the text or the pictures if you want. It is a video already. You really don't even have to do anything.
Social media is just one thing that you can do.
Here are even more things you can do with Canva:
YouTube thumbnails
Website designs
Resume designs
Menus
And much more
The options are almost endless. This is a free and virtually 100% automated process for any kind of graphic design or image gig on Fiverr.
5. My Favorite Automated Tool To Make Money on Fiverr
My favorite way to make money on Fiverr is something new that I've been doing, but I've already made over a thousand dollars in just the last week. The downside is that it's not a free tool.
The upside is that it works great and, because it costs money, you'll experience less competition.
It's called Conversion.ai (not an affiliate link), an artificial intelligence software nicknamed Jarvis that automatically generates all kinds of content for you.
Here is a shortlist of things you can do with Conversion.ai:
SEO title and meta description
Product Listings
Google ads
Facebook ads
Business or product names
Marketing emails
YouTube scripts
These types of services are all over Fiverr and they typically take a lot of time, but not with Jarvis.
I've been using this software for a little over a week now. As I said, it has made me over a thousand dollars already with various content contracts. I have been able to double or triple my content production, which means I can complete more assignments and make more money.
Let me show you just a few things that you can do to make money quickly on Fiverr with this software. The software designers add new features all the time — two more just this week.
One of the new features is creating a business or product name. This is super easy. I was just trying this out earlier, and it would make a perfect gig on Fiverr.
Let's say somebody paid you on Fiverr to come up with a business name for a website that sells clothes online for women.
I'm going to let Jarvis do this for us. We'll just see what he comes up with for our made-up client. You simply describe the business or product in a few words, add your target audience — in this case, "women" — and click the "generate AI content" button.
Here are 10 ideas Jarvis generated in less than 10 seconds:
Delightful styles
Cherry closet
Dress place
Shop again
Curvy closet
Shopaholic
Jane's Closet
Rainbow Glam
I'd Rather Be Clothes Shopping
Online Closet
These are all good potential business or product names. You can click the button over and over again to ask Jarvis to spit out more creative name ideas. Then you simply copy the ideas on this list and send them back to your customer. It takes literally seconds to do it.
You can send your customer 100 ideas without even trying, in less than a minute. That's how quickly you can make money on Fiverr with this software.
Key Takeaways
Here are the main takeaways from this article:
You can earn a decent side income (or a full-time income) on Fiverr.
Join Fiverr, set up your account, and completely fill out your profile.
Start with a gig where you monetize your existing knowledge, expertise, and skillset.
Create templates, scripts, and processes to streamline your Fiverr gigs.
Use Canva to automate graphic design gigs on Fiverr.
Use Conversion.ai to automate content gigs on Fiverr.
Closing Thoughts
One final tip to earn money on Fiverr is to make customers an offer they can't refuse.
When you first start on Fiverr, getting your initial customers can be difficult. Your way around this common roadblock is to offer to do more than anyone else for less than anyone else.
You won't have to do that for very long, but it can get you your first few customers, your first few reviews, and get the ball rolling for your gigs.
As you start to earn more money, you can raise your prices.
If you follow these simple steps, I truly believe that you can earn a good side income on Fiverr.
---
Created by
Christopher Kokoski
Hi! I'm a freelance writer and blogger who runs a portfolio of websites.
--- ---
Related Articles