Why Choose Logistics Software for Your Business: Key Facts and Trends 2021
Custom logistics software development provides you with robust transportation managed solutions that help optimize routine logistics operations and let you focus on your business growth.
TL:DR: Custom logistics software development provides you with robust transportation managed solutions that help optimize routine logistics operations and let you focus on your business growth. In a nutshell, transport and logistics software solutions enhance your business flows in a number of ways, namely:
Improve decision-making through end-to-end transparency of freights, shipments, truckloads etc.
Risk mitigation via ongoing monitoring and control over everyday operations
Enhanced performance with automated reporting, load optimization, and cost estimation features
AI-backed dynamic route planning due to smart driver apps and web management dashboards
The rest of the logistics software benefits, however, need further elaboration.
The article is here to help you figure out the benefits of adopting transport and logistics software solutions to automate and improve your operational efficiency. The following aspects are highlighted below:
Logistics market trends 2021
What is logistics software?
Types of logistics management software
Main challenges logistics companies have today
Key benefits of using LMS for business
Logistics software trends 2021
LMS implementation results in figures
How to find a reliable LMS for your business
Logistics market trends 2021: Everything looks quite promising for businesses
Logistics is among the most fast-growing markets, as the expected annual growth of the sector is 6.5%, according to Allied Market Research. While talking about export volumes, the index reached $18.8 billion in 2019, based on Statista. Since 2000, these volumes have skyrocketed by 291%. Despite the influence of the pandemic, the transport and logistics sector makes perfect progress. Meanwhile, the industry has faced new challenges.
Today's world is on the threshold of essential changes based on recent innovations. This said, the logistics market is looking for new effective solutions to remove the existing obstacles on the way towards further development.
According to a recent industry report, the expected annual growth of the logistics automation market is 12.42%, while experts predict the market to reach $104.2 billion by 2026.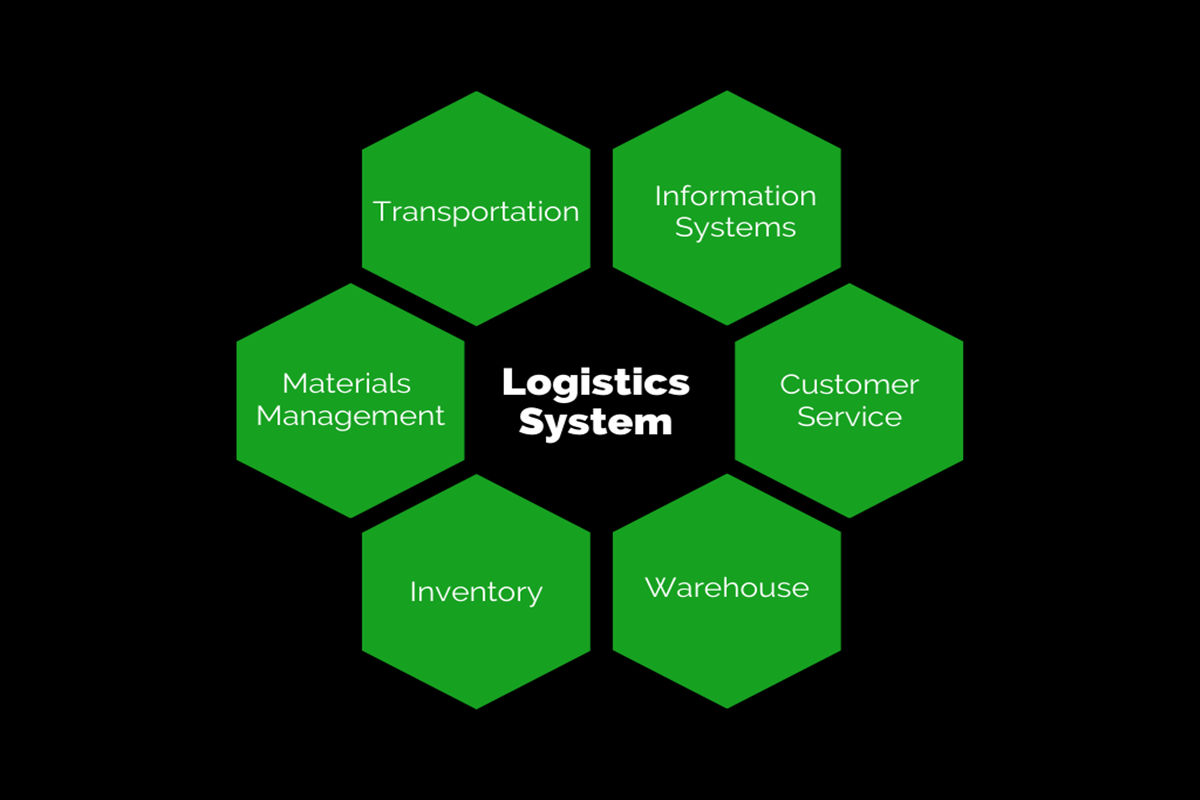 What logistics software is: Some reasons for your consideration
Let's dive a bit deeper into the matter of what transport and logistics software solutions are. How can they help you manage, automate, or otherwise enhance your operational processes? Here's what logistics software provides you with.
Logistics management system as a subset of software product development is responsible for a set of important tasks like goods delivery and supply chain coordination at every stage. The efficiency of the management process has a direct impact on expenses and the quality of provided services.
The logistics management system consists of multiple components; this is why software implementation may affect either the system as a whole or certain divisions to increase their efficiency.
Logistics software types: Specify your needs before choosing
In accordance with the industry's constituents shown above, logistics software development solutions in their turn fall into several categories, each of which providing you with a business-specific software management system. Depending on your business goals and preferences, you are free to choose both standalone solutions or a full-fledged management system provided to you in the form of mobile apps, web-based platforms, or desktop solutions.
For your convenience, here's a breakdown of the most popular types of LMS used in the transport and logistics industry nowadays:
All-purpose LMS (logistics management system) covering all your general operational needs for monitoring and automation.
Transportation management system (TMS). The most popular type of logistics software that is set to manage all your transportation workflows. In some cases, TMS might not be enough to oversee all the logistics activities though.
Enterprise resource planning (ERP) solutions that focus more on your company's organizational and decision-making activities.
Warehouse management system (WMS), which is aimed at optimizing your day-to-day warehouse operations.
Stock control and inventory management systems. These solutions help you take care of your goods, their quality, quantity, and in-stock availability.
Supply chain management (SCM) system, designed to optimize your flows of goods and services to improve end-customer experience.
Third-party logistics (3PL) software suites to help you efficiently interact with smaller carriers, brokers, and individual drivers when it comes to hiring, subcontracting, or other third-party services like online payments, fuel refill points etc.
Fleet, freight, order and other management systems to streamline some specific logistics assets control and monitoring.
Reverse logistics management systems, which are quite new to the market. This is all about leveraging sustainable technology in business meaning the proper reuse and disposal of finished goods and materials.
Common bottlenecks the logistics management system faces
The logistics market undergoes rapid growth, and the management system needs to adjust to new market realities. While talking about key challenges of the logistics management system, the following hurdles are distinguished foremost:
Human errors. This factor is the main challenge the management system faces, as human errors can kill the efficiency of any supply chain, warehousing orother logistics activities.
Safe transport of goods. Inappropriate management leads to damages and losses of goods that lead to complete dissatisfaction of customers.
Lack of transparency. Business owners need to see and control all the logistics expenses, as traditional solutions fail to provide them with this level of transparency. What's more, customers also want to track their goods and demand transparency for delivery routes as well.
Risk management. To mitigate business risks across the supply chain becomes imperative for logistics companies nowadays. The transport management system is set for minimizing risks linked with a cargo delivery to end-users.
Eventually, up-to-date realities like pandemic lockdowns make the existing solutions ineffective and force businesses to find and implement more reliable and effective tech-enabled innovations.
Key advantageous features of logistics management software
What's at the core of LMS solutions? Such software aims to automatize logistics processes and minimize human-made errors and faults connected with warehouse management, goods delivery, fleet management, freight forwarding etc.
The main pros of adopting LMS solutions are the following:
Electronic document flow. The logistics sector implies paperwork on every stage, while the modern solutions simplify this process, making it possible to save much time previously spent for document flow.
Automated transportation. This sphere is among the most important inside the logistics market. Diverse factors like energy, fuel, shipping fees, etc., need to be taken into account. LMS solutions use stored data to automate and optimize transportation processes.
Reduction of delivery terms. The sooner end users get ordered goods, the better – this axiom runs like a golden thread through the logistics market. Implementation of innovative solutions leads to minimizing delays and force-major cases. As a result, delivery terms decrease.
Minimum human errors. Logistics management software controls all the processes and minimizes human errors, as the percentage of automated functions increases essentially.
Cost-effective planning. Logistics management software helps plan every step of the logistics process, namely cost estimation, warehousing, inventory, supply chain, dynamic routes, staffing, last-mile delivery, just to name a few. All this allows you to minimize operational expenses while gaining a competitive edge in the market.
Logistics management software: Key trends for 2021 and beyond
While talking about LMS solutions, there is no doubt they are grounded upon a wide range of innovations. The most widespread trends that proved their efficiency in the logistics market are: the Internet of Things, Artificial Intelligence, Predictive Analytics, process automation, and cloud-based logistics: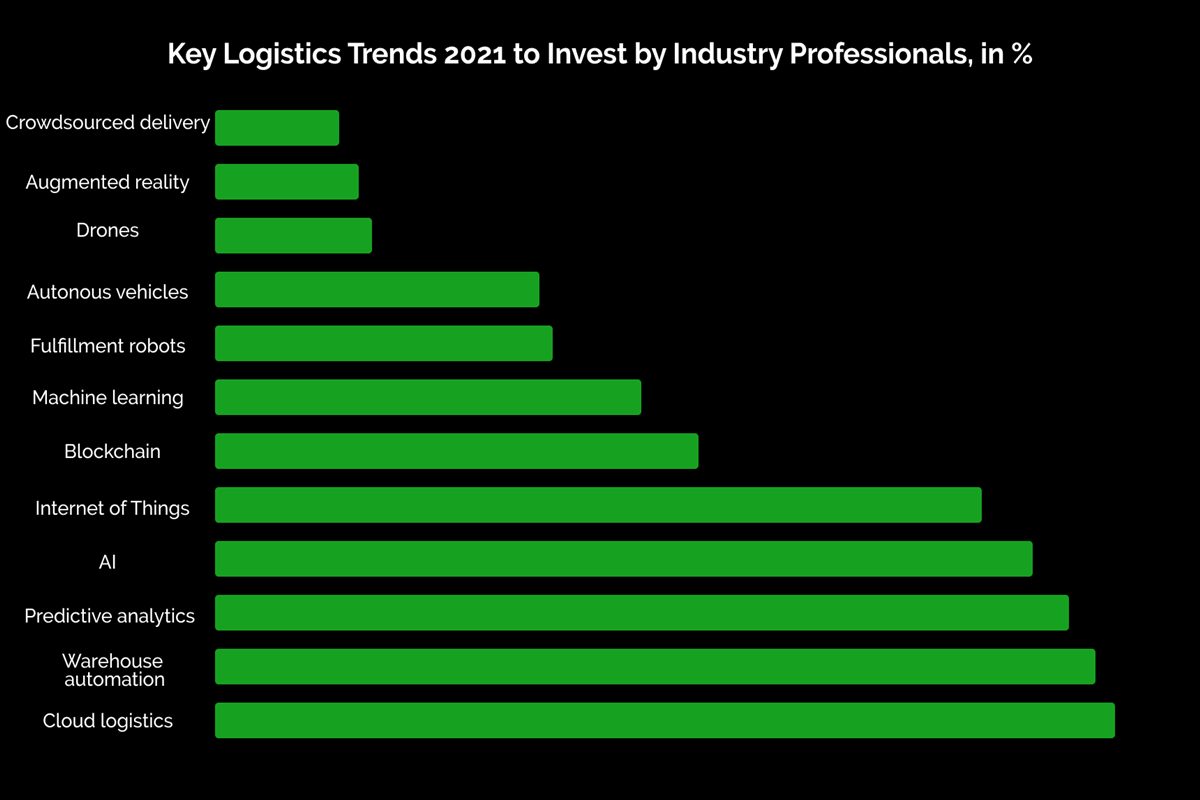 Let's dive into the modern logistics trend to understand their key advantages for the market:
Cloud-based logistics. Cloud solutions unite the world into one globalization system where all systems and participants interconnect through a device's display. As for the logistics sphere, cloud technologies enable market participants to process masses of data and interconnect with supply chain partners.
Process automation. This solution implies the implementation of innovations to replace the vast majority of manual work connected with data input and output, record keeping function, documentation control etc.
Predictive Analytics. Predictive analytics solutions leverage data masses to predict the demand and supply volumes, in-demand goods and to build the most effective logistics automation models.
Artificial Intelligence. As for today's world, AI-based solutions are fertile ground for development in all sectors. The logistics market gets a wide range of benefits through AI solutions implementation: optimal routes monitoring, fleet and delivery tracking, idle time minimizing, etc.
Internet of Things. The IoT solutions serve as a system of equipment, means of transport, and other components united through modern IT instruments. This trend positively affects expenses planning, supply chain modernization, and customer acquisition. A lot of IoT-backed sensors, RFID tags, transponders and other devices are widely used to streamline logistics workflows all the way down, from start to finish.
Mobile app development. Today's frameworks like Flutter enable the smooth development of business mobile and web applications. The apps are a great fit for the logistics industry as fast, natively compiled applications significantly help foster the communication efficiency between all the stakeholders: managers, operators, drivers, brokers, and customers. Mobile application development makes it possible to create great logistics apps that streamline operational control, and ensure effective monitoring of all activities throughout the journey of your goods from start till finish.
The outcomes of the LMS adoption: Let figures speak for themselves
The positive influence of logistics management software is obvious. Meanwhile, what about numbers? You get used to relying on pallid statistics, don't you? Outcomes rooted from the innovations implementation impress:
According to a DHL report, 5% of warehouses are entirely automated. Meanwhile, the Bank of America predicts this percentage to reach 45% by 2025.
Raymond Limited and Foxconn Technology implemented the automation processes that had replaced 10 000 and 60 000 employees, respectively.
Due to logistics innovations, Alibaba shortened the labor workforce in one of the warehouses by 70%.
More than 94% of companies dealing with food packaging operations utilize automated services. As such, their expenses purportedly decrease by 12-27%.
Logistics management software is a catalyst for the market's further development. Business owners get the possibility to control every single stage of the supply chain without wasting any extra costs.
Bottom line: Finding a robust LMS solution
The wide range of advantages that comes with the implementation of logistics management software motivates business owners to join the modern trends. Meanwhile, you need to apply to professionals who definitely have hands-on experience in developing custom LMS solutions. The solutions that can meet and exceed your own and your customers expectations.
Author bio:
Dmitriy Shcherba is Product Content and PR Executive at HebronSoft. He is passionate about tech-enabled innovations and always keeps tabs on innovative software development trends. Dmitriy is a great fan of custom-built software. He believes that bespoke solutions can drive better user experiences.
---
Created by
Dmitry Shcherba
Dmitry Shcherba is Digital Content and PR Executive at Wallet Factory. He is passionate about FinTech innovations and always keeps tabs on innovative software development trends. Dmitry deeply believes in the power of the ESG approach where financial inclusion plays a great role.
--- ---
Related Articles