Why Hike Messenger Failed? A Mammoth Case Study of India's Messaging App
India's Hike Sticker Chat app has been shut down completely - the founder & CEO Kavin Bharti Mittal declared on 6th January 2021 via a tweet. Here's a mammoth case study that answers why Hike Messenger failed, along with the assumptions on what Kavin Mittal could have done instead of shutting the messenger app.
---
Shubham Shrivastava
2 years ago
|
13 min read
---
This story is originally published on Medium.
It's no latest news now that the Hike Sticker Chat app has been shut down completely — the founder & CEO Kavin Bharti Mittal declared on 6th January 2021 via a tweet.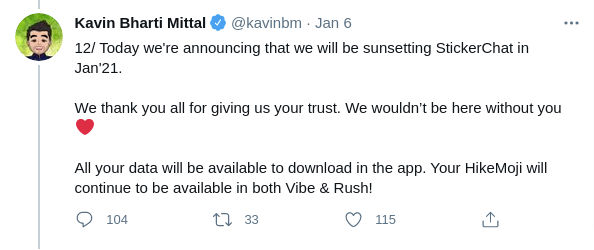 While directing its users to download their data through the app, Kavin also shared that the company will focus on its two other products now — came out through unbundling Hike — named as Vibe by Hike and Rush by Hike.
One of Kavin's tweets also said that India couldn't have its own messenger as the western companies have too strong effects in the country. He also shared that banning western companies could be an option if India wants to dominate the population with its native messenger app.
Meanwhile, it is easy to blame the external factors, we don't know how much Kavin is right regarding the same. So, I thought of doing my own research, and here's what you'll find in the context.
Table of Contents
Who Owns Hike and How it Started?
The Early Days & Hike's Success Stories
Hike's Major Acquisitions
Hike's Overall Funding
Hike's Features
What Happened to Hike Messenger
Good User Acquisition Score
DAU & MAU (Daily/Monthly Active Users)
App Session
Number of Messages Exchanged by the Users
2. Brilliant Management Team
3. Adequate Cash Flow
Reasons Why Hike Messenger is Shut Down
Jack of all Trades, Master of None
Hike was Evolving too Fast
Complex Navigation & High Storage Space
Targeting Millennials Only
Hike Failed to Sell Indian Wechat
What Kavin or Hike Could Have Done Instead
Assumption 1: Using Sticker Chat App as its USP in the Initial Times
Assumption 2: Hike should have used Whatsapp's New Data Policies in its Favor
Assumption 3: Hike could have Leveraged Vocal for Local Campaign
Conclusion
***
We'll also talk about what Hike could have done instead of shutting its messenger app — knowing already that focusing on Vibe, Rush, and Hike (messaging app) simultaneously isn't easy, neither for Kavin nor for any other entrepreneur.
Who Owns Hike and How it Started?
Hike Messenger started on 12 December 2012 (12/12/12) by its Founder & CEO Kavin Bharti Mittal — the son of an Indian business tycoon Sunil Bharti Mittal, Founder of Airtel.
Kavin said that he started Hike with a vision of bringing India online with the introduction of something that's inexpensive and simplified. He believed that messaging can have a bigger role in doing so. And that's how Hike started.
However, during the course, Kavin also found that for every different work users need a different app on their smartphones. He also identified that users have to download a new app, sign it up, and have to go through a new app experience to use it — said in Timesjobs interview.
And that's how the idea of making Hike a super app — or India's Wechat — evolved in his mind.
The Early Days & Hike's Success Stories
If we talk about the initial years of Hike — mainly the first three to four years — the messenger app appeared to be a phenomenal success.
It became one of the fastest-growing mobile apps globally in 2013 — Economic Times.
Hike rated India's second most used app for voice calling and instant messaging — showed Ericsson ConsumerLab Report 2015.
Hike became 2013's #1 Free Android as well as iPhone app in India.
Hike became the first messaging app to launch two-way chat themes. It also introduced many features like voice calling, video calling, a conference call of up to 100 members, groups with up to 1000 members, a Hidden chat feature, News, Cricket score, regional stickers, and a lot more.
It raised its funding to Series D of over USD 175 million.
Hike's valuation grew up to USD 1.4 Billion in 2016 after its last funding round.
Hike became 10th India's unicorn startup and joined the club (after its valuation turned to $1.4 Billion) with other giants like Flipkart, PayTm, Ola, Snapdeal, etc.
The messenger app acquired its first 100 million users within the first three years.
In the duration of almost three years, the company has released 136 updates.
Hike achieved a strong user engagement rate in its early times in the country even when data packs weren't affordable for every Indian initially.
Now come to Hike's acquisitions, its funding, and surprising features in the messaging space.
Hike's Major Acquisitions
While being in its initial development phase, Hike didn't think twice before making acquisitions. The messenger app successfully acquired four companies in its nine-year journey — notably, all of the acquisitions took place in the first five years.
Acquisitions are listed in the table below with their respective announced dates.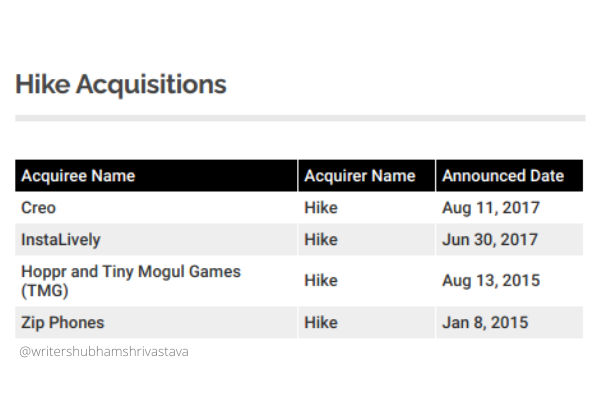 Hike's Overall Funding
Hike Messenger and the son of Sunil Bharti Mittal, Kavin Mittal, didn't have to face difficulties in attracting investors and raising funds, unlike other ventures.
Bharti SoftBank (BSB), a joint venture between Bharti Enterprises and SoftBank Corporation, backed Hike in its early year development. Later, the fast-growing mobile app also attracted many other marquee investors like Tencent Holdings and Foxconn Technology Group.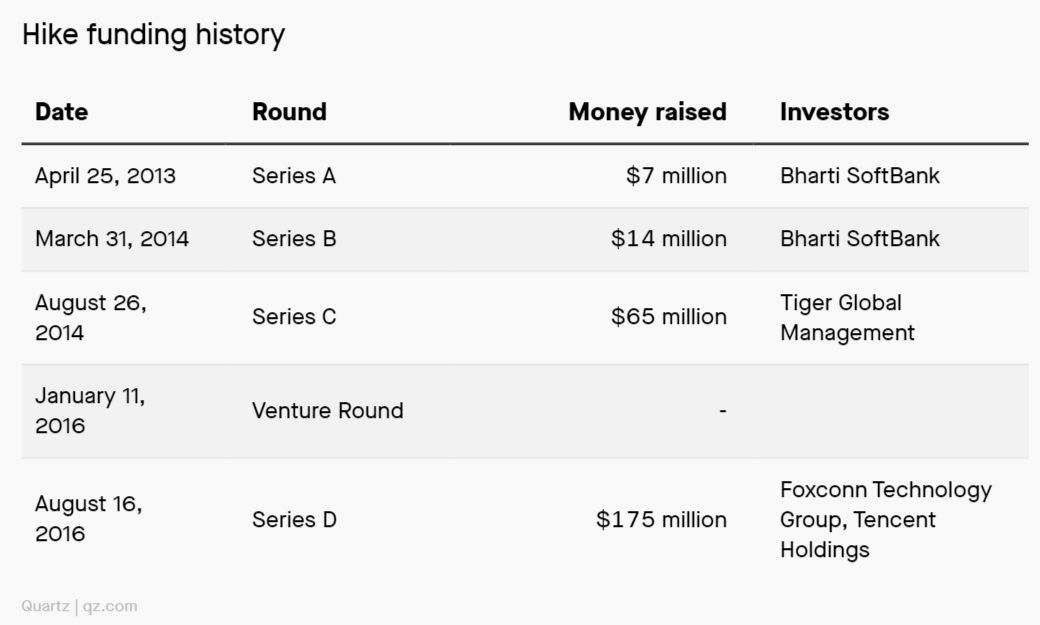 Hike's Features
Indeed Hike had a lot of features as compared to its primary competitor Whatsapp. It came as a simple messaging app and covered the journey to becoming a sticker chat app, a content and games hub, a cricket score destination, and a news channel in seven regional languages.
Here's how Hike developed its features after its launch till 2020.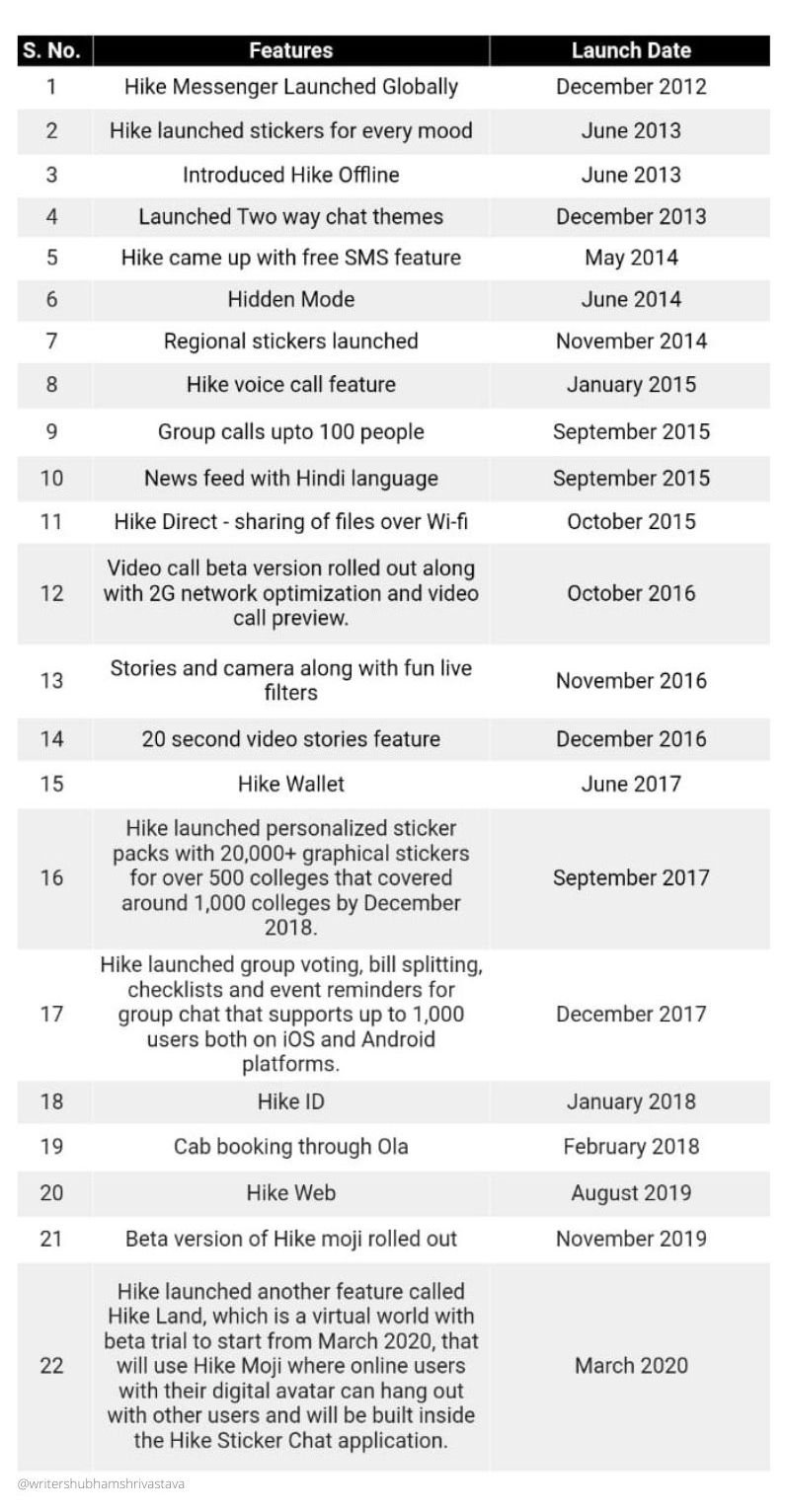 What Happened to Hike Messenger?
One of India's flagships, Hike Messaging app, later branded as the Sticker Chat app, which was competing fairly with the western apps like Whatsapp, Facebook Messenger, Telegram, etc., surrendered in January 2021.
And while everyone is assuming the imperfect approaches of the company and the product, no one gave a thought to the company's health — which is as important as the product.
Indeed it's hard for us to know the inside story of a unicorn startup until we have trusted sources. And to deal with the challenge, we decide to research Hike's foundations — which are also necessary for every mobile app business to thrive.
A healthy startup must have;
Good User Acquisition Score
Brilliant Management Team
Adequate Cash Flow or Funding
So, let's explore and see how healthy was Hike internally.
1. Good User Acquisition Score
As simple as it sounds, it's a process of acquiring new users for your mobile app business via different marketing practices and networking effects.
No mobile app business can survive without users for sure and that's why it is a considerable factor. Also, there is no ideal score to achieve but every mobile app business must keep setting a higher bar as they grow.
Hike has seen using;
(i) TV ads with campaigns like 'Got a Gang, Get on Hike,' 'Hike Up Your Life,' and 'No More Whatscrap'
(ii) Cinema advertisements
(iii) Referral Bonus and
(iv) Radio to encourage its users to use Hike.
Fortunately, the company acquired its first five million users in just three months after the app launch. Here's the rest of the user acquisition story till 2019.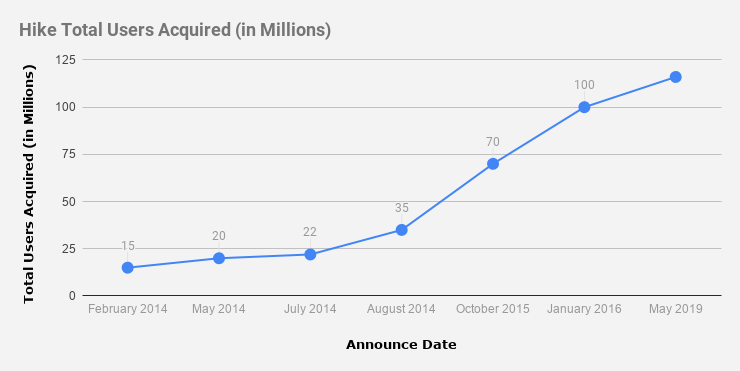 In 2019, it found out that 29% of Indian Internet users were using Hike.
But we cannot identify the churn rate, active users, retained number of users, and the app's most demanding feature by simply calculating acquired users. That's where these three factors come into play. They can help you get a better insight on Hike's user acquisition — or any messaging app's users.
- DAU & MAU (Daily/Monthly Active Users)
Daily Active Users are the users who use a messaging app or platform actively on daily basis. When the same concept applies to monthly-based active users, it becomes MAU (Monthly Active Users).
Notably, a user considered as an active user only if they open the app — either web or mobile version.
Hike Messenger didn't release enough data on its daily/monthly active users and that's why there's limited data related to it.
Here's what I have found on the web;
After the official launch of Hike, the app reported a million weekly users in just slightly over three months.
In mid-2014, it was found that Hike has 50% monthly active users out of total registered users — 15 million in February 2014.
In late 2016, Hike reported 30 million MAU and 10 million DAU — says Kavin in an interview with Forbes India.
It has also found that after the Hike Wallet launched, in 2017, the app saw a surge in its active user base by 30% month after month.
According to AppAnnie data, Hike had 1.07 million DAU in August 2018 and in December, the same year, it went down to 90,000.
Hike's probably the first company that prefers to give more importance to WAU (Weekly Active Users) than the other two — DAU & MAU. In December 2019 Kavin told Inc42 that Hike moved to 2 million WAU, which were 500K in mid-May of 2019.
Hike achieved its stretch goal successfully while its actual target was to acquire 1.4 million weekly active users that they set in 2017 to be completed by Dec 2019.
Here's how the progress looked like;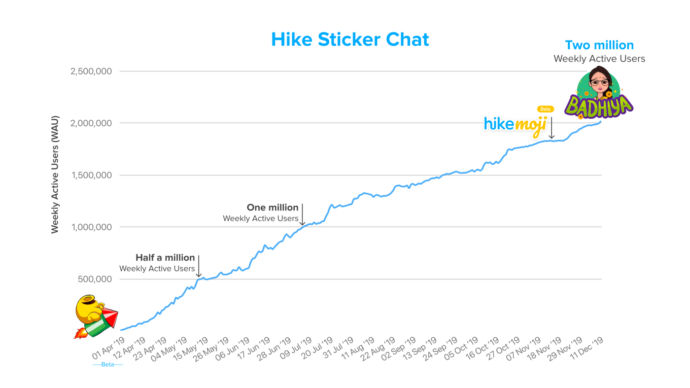 - App Session
App session indicates how much time users spend within an app.
Since Hike didn't talk about these stats in public, here's what I found;
Hike noticed a user spends 120 minutes per week in 2017.
Last year, in March 2020, the messenger app saw a 33 percent increase in daily time spent by users during the pandemic, which is almost equal to 44+ minutes per day on average.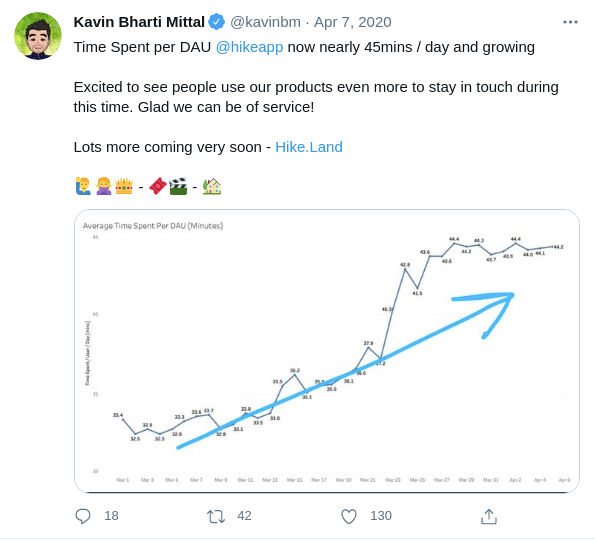 - Number of Messages Exchanged by the Users
It's as simple as it sounds. It's the number of messages shared by the users in a definite period — daily, weekly and monthly.
Coming to Hike records;
The sticker chat app witnessed 20 billion messages being shared every month till August 2015.
By December 2015, the daily message sharing record turned to one billion.
In January 2016, the sticker chat app noticed 40 billion messages being shared every month.
2. Brilliant Management Team
Having harmony in a team is as essential as acquiring users for a messaging startup to thrive.
In the postmortem report of 101 failed startups by CB Insights, 42% of cases faced failure because of not having the right team.
And Kavin's latest interview, after Hike's shutdown was announced, with Business Insider gave the clues regarding the same. Apart from talking about Vibe and Rush, he shared what went wrong with the messenger when asked.
He said, "We had built a phenomenal culture at Hike until 150 people. But we were going too fast and when you make hiring mistakes at the top, it all comes tumbling down."
That's the reason now Kavin has his own code on hiring people which he calls the 'Operating Bible.'
3. Adequate Cash Flow
Inadequate cash flow is the sea monster that can sink any startup's ship. Fortunately, Hike had the advantage — even Kavin admits the same.
The messenger app which was initiated by the joint-venture of Bharti Enterprises and SoftBank Group raised $261M of funding in over 5 rounds.
The messaging app was funded by a total of ten investors, where Tencent and Bharti Enterprises were the most recent ones.
Even though a shortage of funds is the second top reason behind a startup's failure, Hike didn't need to face such challenges at all.
Therefore, it's clear that funding or cash flow wasn't the reason behind Hike's downfall.
And if we consider all of the foundational factors we discussed above, the management team seems to be a contributing factor behind Hike's downfall so far.
Reasons Why Hike Messenger is Shut Down
If I have concluded the piece with my observations so far, I might have missed some important points in the conclusion. I'm glad that I further investigated to see what other Internet sources have to say about Hike's downfall.
Some of them are as follows;
Jack of all Trades, Master of None
Hike took off with some phenomenal features — regional slang stickers, two-way chat theme, hidden chat, and free text messaging — which none of the popular messaging apps had at that time, especially Whatsapp.
Later, it developed news updates, Hike Wallet, online games to lure users. Eventually, Hike started gaining popularity and it felt that the Indian messenger will be a huge success in the upcoming times.
Unfortunately, too many features clouded the messaging app's USP (Unique Selling Proposition).
However, when Kavin noticed it, he rebranded the Hike messenger as the Hike Sticker Chat app with a sticker-centric experience in April 2019.
But it was too late to realize as Whatsapp amassed over 400 million MAUs in India by July 2019 — Techcrunch.
Telegram, in October 2018, and Whatsapp, the same year, had already rolled out stickers when they found that users were liking it.
It became hard for Hike to gain users' attention eventually.
Hike was Evolving too Fast
Hike was introducing 3–4 features to its users every year. Indeed, they were moving fast.
In the ten months of 2015, Hike introduced four features such as voice call feature, group call feature, news feed in Hindi, and Hike Direct to its users.
At one end, where some users were enjoying the features, others felt overwhelmed. Before users could get a hang of a feature, Hike smacks them with another.
Whereas Whatsapp was providing simpler UX by slowly evolving with last seen updates and stories. The users find Whatsapp much preferable than trying to adapt every new feature Hike throws once a quarter.
Complex Navigation & High Storage Space
If we talk about user navigation, we can assume that existing users will adjust to it somehow. But what about new users or users that weren't using Hike actively? It was a challenge for them.
The navigation was so complex that a user has to go through seven steps to post a photo on the timeline. Moreover, the packing of such diverse features made Hike a heavy app — 75.16 MB (Android).
Smartphones weren't as affordable back then as they are today, neither did they used to come with 3 GB RAM and 128 GB ROM. Obviously, Indian smartphone users had to avoid heavy apps to save more space on their phones.
However, Kavin addressed the issue in a Business Today's interview with the hope of making the next version Hike (5.0) much simpler and lighter, which was released with 25 MB space in July 2017.
Targeting Millennials Only
According to the company's sources, Hike's primary demographics were the 16–21 age range users specifically belonging to metro cities.
Their targeting was driving them back in terms of market acquisition and Kavin didn't realize it until 2019 — later decided to unbundle the app to target different parts of the market, said Kavin in a rediff's interview.
The target preferences of the company advanced to the same demographics but in small towns of India now. But again, things were already out of the hand.
The Jio and affordable smartphones storm that came in late 2016 helped Whatsapp to become popular in urban India.
Whatsapp usage surged in urban India and noticed adoption in rural India.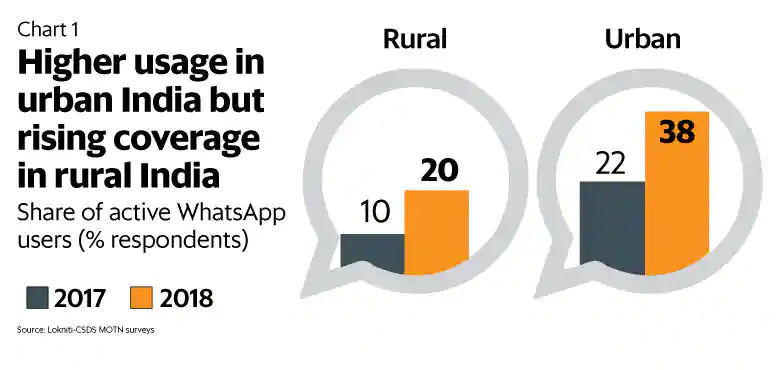 As the smartphones and Internet coverage unfolded after 2016, the user acquisition improved and the bracket of 25+ started picking up Whatsapp. The launch of Whatsapp Business in 2018 helped the company in creating more market dominance — by including small businesses and corporate audience segments — in the upcoming years.
Sooner than later, Hike lost more opportunities with time.
Hike Failed to Sell Indian Wechat
Hike tried its best to become WeChat for India. Wechat is a Chinese super-app that gets used for messaging, consuming content, and making online payments.
However, it's easy to drive on empty roads.
WeChat has market dominance in its country because it has no competitors to face. China has banned all of the western messaging apps in its country, they don't even use Google as a search engine. And when users don't have enough choices, they'll certainly stick to what they are left with.
And that's what Kavin said in its tweet while bidding adieu to Hike sticker chat;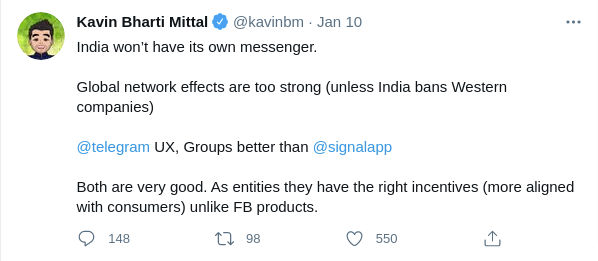 What Kavin or Hike Could Have Done Instead
Even though Hike used great ad campaigns such as 'Hike Up Your Life' and 'No more Whatscrap' along with its unique features to acquire users, it could have made a great comeback after 2020 if they would have used the following strategies.
However, these strategies are assumptions only as these haven't been tested in the real world. But I believe that these could have made an impact on Hike's growth if tried.
Assumption 1: Using Sticker Chat App as its USP in the Initial Times
Indeed, Hike was experiencing phenomenal growth in its initial days but today's growth does not guarantee tomorrow's bright future.
The company had to cost its DAU/MAU in later years to realize that the company was missing with a USP — later developed in 2019. Hike Messenger became Hike Sticker Chat App. Also, Whatsapp and Telegram's sticker adoption confirms that stickers have a crucial role in engaging and retaining users.
The story could have been different if Hike would have changed its approach in the next one or two years instead of cloning Wechat.
Assumption 2: Hike should have used Whatsapp's New Data Policies in its Favor
Remember how Signal picked the pace up when Whatsapp's new data-sharing policies emerged. I wondered why nobody paid attention to Hike until Kavin's tweet showed up in January 2021 about shutting the messaging app down.
If Hike would have used a strategy to upsell itself in the name of encryption, the users who gave up on Hike earlier might have come back again.
Assumption 3: Hike could have Leveraged Vocal for Local Campaign
After the novel coronavirus hit India's economy, Indian Prime Minister Narendra Modi introduced a campaign Vocal for Local (to purchase and use the country's manufactured items over other alternatives) to recover the country's economic health.
If Hike would have leveraged the campaign, the sticker chat app would have a different story. Moreover, Hike also found a surge in its active users during the country's lockdown in 2020. The incident confirms that there was a scope for Hike to come back.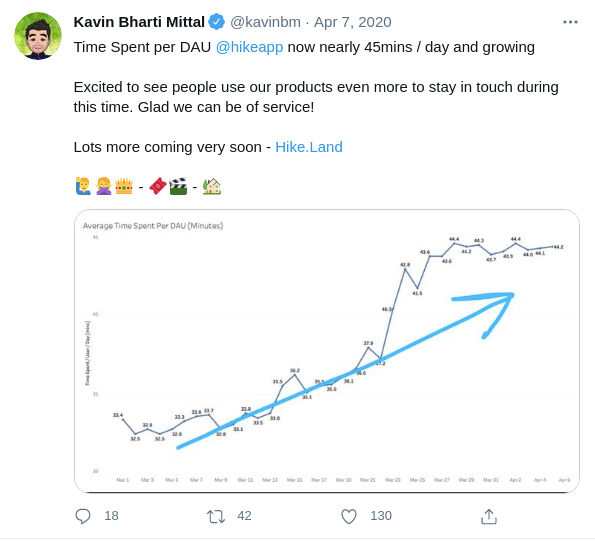 Conclusion
After considering all possible factors, we can conclude that there were many reasons behind Hike's drowning;
Management Team
Lack of USP
Poor Market Penetration
Whatsapp's Market Dominance
Other External Factors such as free Internet & affordable smartphones storm, and Whatsapp's brand identity among rural and urban Indian users.
Talking about Hike's biggest competitor, Whatsapp has become a habit of Indian users. It used to be a status symbol back then and the new market segment (Urban & Rural Indian Users and 26+ Demographics) eventually jumped on it when they saw free Internet and affordable smartphones as an opportunity.
Later, Whatsapp also strengthened its roots in the corporate segment via Whatsapp Business.
On the other hand, it's also true that Hike's journey appeared smooth at the start but the CEO and the product itself couldn't bear it when external factors turned against them.
But if Hike would have made it through that disaster, it would have become a story worth telling. Hike had the potential and many Indian users wanted it to stay but probably Kavin had something else in mind — who knows if Hike's Vibe and Rush are the missing pieces of the puzzle.
---
Created by
Shubham Shrivastava
A nomad writer penning my perspectives!
--- ---
Related Articles