Why I decided to forgo an MBA and chose to start-up instead
When and why should you do an MBA?
The plan all along was to do an MBA from one of the M7 B-Schools in the US.
I gave my GMAT back in the final year of undergrad and got a great score – Check.
Started my career at a Day 1 Slot 1 management consulting firm – Check.
Spent a couple of years in venture capital investing at a global fund – Check.
So doing an MBA from a top-tier school almost seemed like a default option not just in my mind but also in the minds of my family, peers and employers. After all, most people with a similar profile follow this path.
What changed then? Why did I decide to forgo this well-trodden path and take the plunge into entrepreneurship? Many juniors have reached out to me asking for my thought process on MBA vs entrepreneurship and this is an attempt to demystify the same.
Note that this is not an either-or kind of a situation and there are a hundred other things you could potentially be doing with your career.
This is just me penning down how I went about thinking through my personal dilemma.
When and why should you do an MBA?
I think doing an MBA makes a lot of sense if you fall into one or more of the following buckets -
You want to pivot your career from X to Y or accelerate the transition from X to Y
Say you're working as an engineer at an oil & gas or FMCG company and now want to work as a management consultant. Or that you're in back-office finance and now want to get into front-office investment banking.
Or that you're a software developer and are looking for a break into product management.
An MBA will help you get a formal education in business as well as build out a relevant network (think alumni, peers, recruiters) that will make it much easier for you to make this career switch than it would otherwise be.
You want to move to the US
If you want to work at the HQs of some of the world's largest tech companies such as Facebook, Amazon, Netflix, Google, etc. then you might need a US MBA to get a foot in the door.
If you want to work at a well-funded rapidly growing tech startup in the heart of Silicon Valley, then again you might want to consider an MBA. Now one could argue that India too has interesting emerging tech companies but the reality is that there continues to be a large disparity in the number of such companies in the US vs India.
The other strong reason to move to the US could just be a better standard of living and quality of life. Let's just face it – India is nowhere close in terms of pay standards, infrastructure, healthcare, etc.
You're burned out and just need a break. Or you want to rediscover yourself.
A large part of the B-School experience involves partying and networking. It is a great opportunity to interact with folks from all over the globe and all walks of life.
You're going to be working all your life anyway, so might as well take a 2-year break if you're tired of the monotony of work.
Personally for me, since I came from a consulting & investing background, most career paths seemed to be already open for me.
Also, I'm not fascinated by life in the US since I'm not comfortable being far away from friends & family. Better quality of life isn't big enough of a driving force for me. And I didn't feel burned out.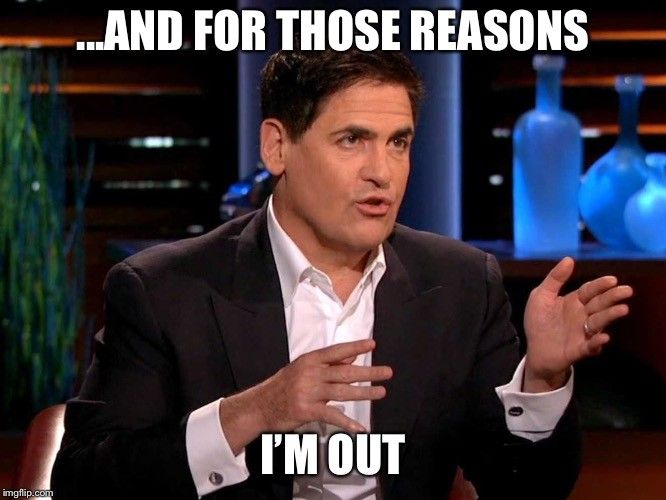 There are a few other reasons why people think doing an MBA makes sense but my view is that you should think of an MBA as a stepping stone and not as an end outcome in itself.
So don't do an MBA just because everyone else seems to be doing it. Or because studying from a top school in the US is considered to be prestigious. Or because you've always wanted to do it and have worked your ass off creating a great "profile".
It's time all of us look beyond the rat race and make meaningful choices to do what we really want to do rather than what we're expected to do.
An MBA is a large investment in terms of money and time when you're at one of the most energetic phases of your career and don't already have a lot of existing responsibilities.
Also, compared to 10-20 years ago, employers are increasingly valuing experience over education and an MBA is no longer a must-have for top corporate jobs.
So think long and hard of what is the WHY behind your MBA? And be honest with yourself when you're thinking about it.
Why did I decide to become an entrepreneur?
Entrepreneurship is an MBA
The only difference is instead of the degree you get awarded with real-world experience. Instead of just reading about new business concepts and discussing them with the rest of your class, you're actually applying new concepts in your day to day life with real stakeholders (co-founders, employees, investors, vendors, consultants, etc.).
Personally, the real-world experience just seemed more exciting to me.
Execution experience is invaluable
After spending time in consulting and investing, both of which are structured jobs that require a lot of research, analysis, strategizing, advising, etc., I was keen to get my hands dirty and be in a role that required both strategic thinking as well as tactical execution.
Even if I am to go back to consulting or investing in the longer run, I think I'll be better equipped to do those jobs if I have actual execution experience and have built something from scratch.
That is purely because I will now also develop an inside-out view of the way companies work along with the outside-in view that I'd already formed.
Opportunity cost of time and capital is key
I am fundamentally bullish on India's economic prospects and I really wanted to be a small part of India's growth story. Doing an MBA would've meant at least two if not five years away from India and a large sum of capital blocked (read student debt).
On the other hand, if I chose to become an entrepreneur, I would be at the forefront of driving innovation, creating jobs and making a meaningful contribution to the country's economy.
Starting up requires a lot of mental strength. And along with the three rational arguments above, I also underwent a journey of introspection & self-discovery that finally led me to the conclusion that I should start something of my own. It should be noted that there's no one-size fits all answer here.
Each individual is unique and the right decision for that individual depends on a number of different dynamics at play.
Would love to help peers or juniors undergoing similar dilemmas and help them think through their career. A lot of seniors have guided my thinking along the way, and I would love to give back! Feel free to DM or email me at sagar@godutchpay.in
---
Hustling at goDutch (fintech startup funded by Y Combinator, Matrix Partners, etc.) | ex-Investor at Eight Roads Ventures | ex-Management Consultant at Kearney | Engineer from IIT Bombay
--- ---
Related Articles