Why Netflix Is Winning At Digital Marketing
Here are a few of Netflix's digital marketing strategies broken down
Money Heist, Stranger Things, Black Mirror, House of Cards, Orange is the New Black, 13 Reasons Why…should I go on?
It doesn't take much imagination to know that Netflix is absolutely peaking in the streaming world. So much so that it is now commonly even used as a verb.
They are absolute kings when it comes to original video content and also offer other external options in order to cater to different tastes.
But what can a marketer glean from Netflix's marketing success? Can we try to emulate their strategy?
Well, even if you are not a part of the entertainment business, there is a lot you can learn from Netflix's exemplary marketing strategies. They strategically focus on creating value for their viewers. Creating value can be interpreted in different ways.
Continue reading to learn how Netflix provides value.
Just a quick recap, Netflix initially started out in 1997, as a DVD mail-order service, but made the choice to switch over to streaming videos online instead. This happened right after Amazon and Walmart entered into the DVD rental industry, resulting in a huge drop in Netflix's viewership.
Fast forward to over two decades later, they now have more than 183 million subscribers. This means that the switch to streaming videos online was definitely a bold, but right move.
Here are a few of Netflix's digital marketing strategies broken down:
1. Netflix's Social Media Accounts or Meme Accounts?
When Netflix's audience isn't obsessing over streaming, it turns its focus on something completely unrelated — meme-ing. So what does Netflix have anything to do with this?
Netflix leverages this to their advantage. Here are a few examples: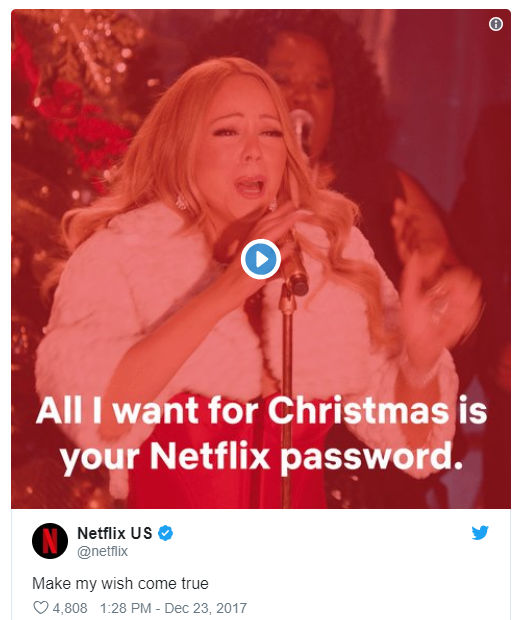 Source: Twitter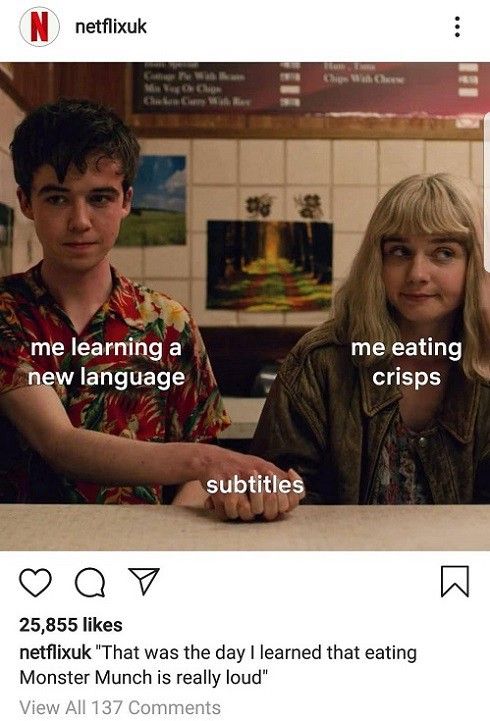 Source: Instagram
There are a lot of memes and jokes created on and around Netflix — which is embraced by the brand. Recently, I came across a BuzzFeed article, which illustrates a few examples of the same. Really amazing to see how much momentum a post can gain by just associating with the brand Netflix.
Pro tip — Netflix acknowledges funny tweets. That means if you tweet applaudable jokes or memes aimed at Netflix, which additionally promotes their content, you have a good chance of getting retweeted by their official Twitter account.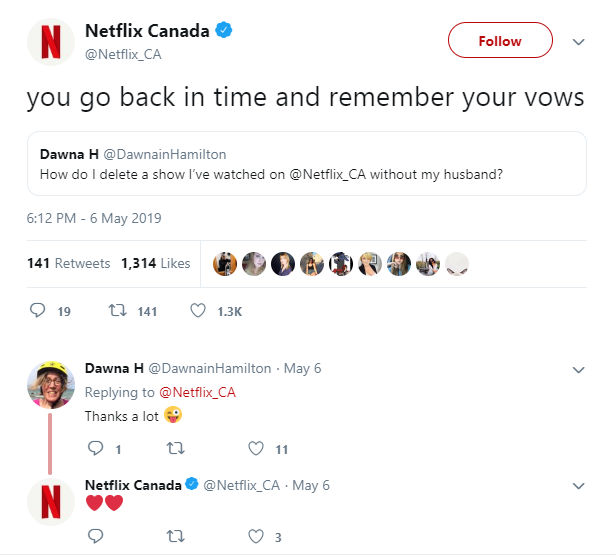 Source: Twitter
This may look like Netflix is supporting its subscribers, right? But, what's interesting is that it is also another at minimal to no cost marketing strategy. It's something that helps the brand stay within the customers mind, while also indulging and engaging their followers.
2. Netflix Engages In Controversial Messaging
We all recognize that popularity comes with controversies, and Netflix is no stranger to backlashes and controversies.
Here's one of the most controversial tweet by Netflix.

Source: Twitter
This was a reference to subscribers watching the same film over and over, but questioned its privacy concerns. You may be wondering or asking yourself, "How does Netflix know so much about these people?"
You are not alone.
When questioned on this topic, Netflix apologized, and assured its users it would not share their data publicly. Due to this controversy, they experienced a hyper-growth and gained over 40 million subscribers within that period, despite the price hike in subscription plans.
3. Netflix Leverages Social Media For Broader Engagement
Netflix knows how to generate massive engagements from all of their various social media platforms. How?
They engage their audience by creating polls and prompt engaging questions which quickly stimulate a response from its viewers. A cheeky reply from Netflix, can result in five minutes of social media fame. This encourages fans to continue their interactions on such posts.
Here are a few examples of some Twitter polls that provokes discussion and solicits feedback around their brand: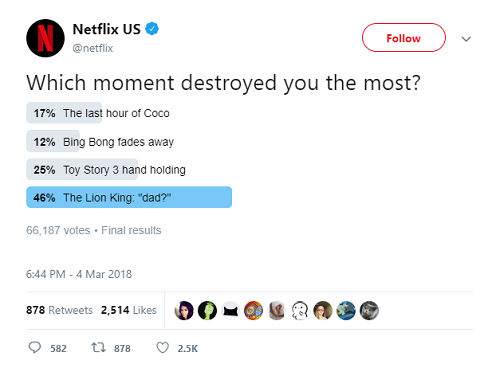 Source: Twitter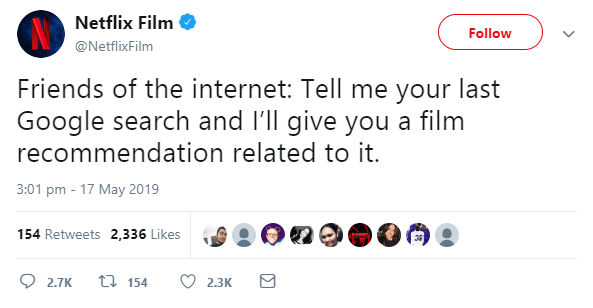 Source: Twitter
You know what is great about this? It doesn't really feel like it's coming from a professional brand because they place themselves in their customers' shoes. Simply great stuff!
4. Netflix Has A Strong Email Marketing Game
It is really frustrating having to delete a pile of boring, bland newsletters, and repetitive content from your mailbox each time. Netflix recognizes that pain, and plays it just right.
They monitor your browsing behaviour and sends out specifically crafted emails based on their tracking.
A few metrics used by Netflix to measure user preferences are:
What time do you watch the content and on what day;
Where do you watch the content (Zip code);
When you pause, rewind, or fast forward content;
The device you use to watch the content;
The ratings you provide to each movie/series;
Preference of watching a single episode or an entire series at a time; and
Other browsing and scrolling behaviour
I know this may sound creepy. However, as long as the data is being used to better customer experience, can we really complain?
Personally, this is great, because Netflix isn't only tracking the above mentioned metrics, but leveraging them for its business. Pretty smart.
5. Netflix Offers Personalized Content
Netflix offers highly personalized content to its users. I don't only mean addressing their users by their first names, but also sending out content recommendations based on the factors above.
Okay, that's pretty common, every other streaming brand does this. Then how is Netflix different from the likes of Hulu, HBO, and AmazonPrime?
Personally, the most appealing part is their simplistic approach to email designs, which allows users to quickly find the call-to-action without getting lost in the rabbit hole of suggestions.
Netflix usually prefers promoting a single TV show with a clear call-to-action button, helping users to cut through the clutter easily.
Here is a great example of this statement: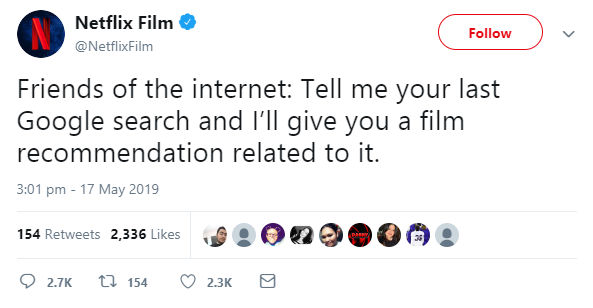 My point here is that, your audience will never get bored or get annoyed if you deliver content that they actually want. Netflix does this exceptionally.
The Bottom Line
Netflix communicates with us like a fan, believing a brand can only achieve success with a truly authentic voice. This is unlike most of the other streaming companies, which stick to a formal tone while interacting with their customers.
Understandably in this case, marketing comes later and quality content comes first. But, in that aspect, when it comes to volume of original content, Netflix blows away their competition.
Now, that we have an in-depth understanding of the brands digital marketing strategies, all that's left to do is —
"Netflix and Chill"
This article was originally published by Nitish Menon on medium.
---
A grad student writing about marketing stories, strategies, experiences, and other ideas from life.
--- ---
Related Articles