Why Remote Working is Here to Stay
"Future of Work"
At Pretiosum, we have always been enthusiastic about the idea of "Future of Work" and collaboration tools, but we now believe that the current climate has dramatically accelerated the inevitable shift towards remote working.
Many companies are experiencing the most dramatic change in how they work which has occurred in decades, and probably in recent human history, with almost one in two employees currently working from home.
But how many companies will choose to embrace remote working once the emergency is over?
If you're working from home for the first time, you might be asking yourself why you weren't offered this opportunity years ago. The benefits of remote work have been discussed for nearly half a century but almost no changes have been implemented. And many thinkers predicted a near future where work moves to the worker, rather than the worker to the work.
A recent MIT report states that 34% of the Americans who were previously commuting are now working from home. Combined with roughly 15% who confirmed they'd been working from home pre-crisis, that means nearly half the U.S. workforce is currently likely to be identified as remote workers. Today, an unprecedented figure of ~500M people globally are estimated to be working remotely.
This enforced remote working experience is showing us that current arrangements are a viable option for many more businesses than we thought. According to Microsoft, this moment will change the way we work and connect with each other forever, for example, there are still more than double the number of new remote teams users each day in China compared to January, and this is despite the fact that the world's most populous nation has significantly relaxed restrictions.
This is so significant that some believe it could have the transformative effect of pushing society forward by the equivalent of 30 years in a matter of 3 months.
With this in mind, it's estimated that there could be 1 billion permanent "location independent" workers in place by 2035. And the main drivers for this increase in remote working practices will be:
Employees want to continue working remotely, once they have done so, therefore if a company wants to be competitive, it needs to offer such an option to its new recruits
Employers can benefit from higher productivity and lower costs
Employees satisfaction and competitions on talents 👨‍💻
The millennial generation (defined as those born from 1980–1995) will have a profound influence in shaping future workplaces. And this is particularly significant as it's estimated that millennials will comprise the majority of the global workforce by 2025. This generation will bring new expectations to the workplace, disrupting existing customs and practices. A more flexible approach to location will become prominent, as will favouring results over outdated working practices. Our friend Chris Herd (Founder of Firstbase — check his company out!) argues that great remote work capability will become a big differentiator in global talent wars, as companies will be able to hire globally (vs. your area only), and therefore, more and more talents will request remote work as a condition of employment.
According to the survey conducted by Buffer & AngelList, there's one stat that has been unequivocal year over year: remote workers almost unanimously want to continue to work remotely (at least for some of the time) for the rest of their careers. And the primary benefit of remote working has remained the same over the last three years — namely, flexibility.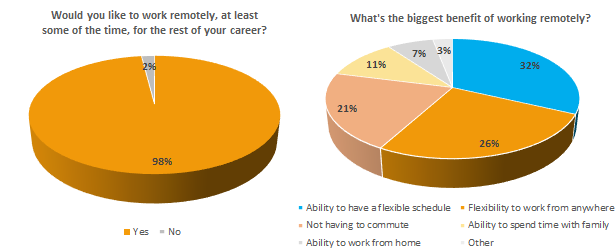 Source: Buffer and AngelList — The 2020 State of Remote Work
While according to a different survey, which exclusively addressed remote workers, an impressive 82% of all respondents suggested that they never planned to return to an in-office setting.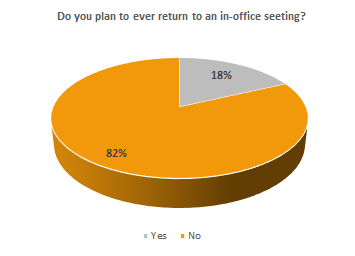 Source: Remote Tools — Remote Work 2020
Irrespective of the reason to explore remote working, these stats reflect the convenience that the practice offers to individuals, and underlines how offering remote working opportunities might immediately make a company much more favourable to applicants.
Cutting fixed costs and increasing productivity 🪒
In the insightful "VC & Founder Sentiment Survey" conducted by NfX, almost 1 out of 3 seed-stage founders (and c. 19% of post-series A) announced that they intend to maintain full remote working arrangements for the long-term.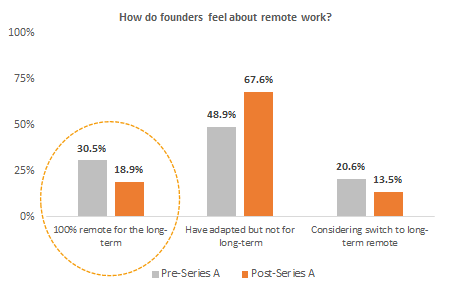 Source: NfX — The VC & Founder Sentiment Survey
In the US, the tech industry has fueled the real estate commercial market, accounting for more than 20% of all leasing (and more than 50% in San Francisco and Seattle), but there are already signs that commercial real estate demand is dramatically slowing down.
This halt may be partly strategic, waiting for a few months, when tenants should be able to negotiate a better deal, but overall demand is expected to fall. SaaStr warned that it may be only the beginning of the end of the Bay Area as the Global HQ of SaaS companies, arguing teams moving to remote working have increased drastically, beginning with organizations such as Trello, WordPress, Github, Buffer, and according to Paul Graham (Founder Y combinator) many more will follow.
"Fixed" costs, such as office rent, buying/maintaining office furniture, and monthly utility bills, are often the main voices which are suppressing the operating profit margins of a business. Introducing remote work can heavily slash costs incurred to keep the business running, saving up to $22,000 for every remote worker per year. Job migration is another possible consequence of the current crisis.
It will become increasingly clear that remote workers in lower-cost countries can strongly contribute to the labour market of developed countries. The migration from in-person to remote, and later from remote-domestic to remote-overseas will reduce expenses, but also shake the current job market.
Harvard Business Review cites a study conducted by Stanford Professor Nicholas Bloom, which concluded that working remotely can lead to a 13.5% performance increase. And ConnectSolutions report suggested that fewer distractions lead to higher productivity, with 77% of remote workers reporting an increase in efficiency.
Conclusions 🏁
Workplace collaboration is the new normal 🛠
Regardless of the current crisis, we believe remote collaboration is the new normal in the workplace, and investors are rapidly responding to this massive shift (e.g. Remote First Capital). Collaboration means improved efficiency and increased productivity, but only if you have the appropriate tools for collaboration in the first place. Google has gathered a comprehensive list of tools and resources to use in order to stay connected and productive while working anywhere.
There is however a great difference between companies working on a 'remote only' basis and companies allowing its employees to also 'Work From Home'. Only If enterprises are able to provide their employees with the required tools to work from everywhere, and give them the flexibility to choose among different arrangements, then this time there'll be lasting changes.
2. The rise of open space could come to an end 🌆
During the dotcom bubble in 2001 and the global financial crisis in 2008, workers who retained their jobs gained additional space as a result of the layoffs. This was due to the fact that companies were locked into long-term leases, and thus could not quickly adjust to the reduced personnel. However, following the latest crisis, hiring recovered and leases expired, resulting in organizations slashing dramatically the space per employee, fitting more and more people into smaller offices.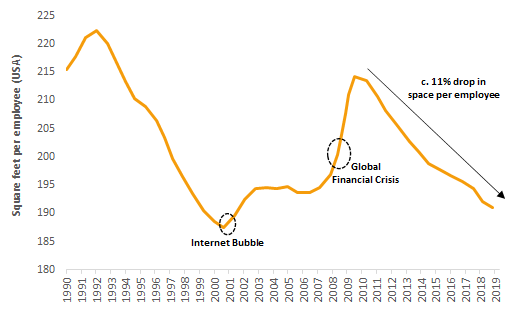 Source: Pretiosum Ventures estimates, Harvard Business Review, CoStar Group
Conversely, this time the seemingly unstoppable rise of open space could slow down, as the current office density won't be suitable for social distancing, and people will realize that working in a quiet room behind a closed door can be really valuable.
3. Contemporary urban living may become less attractive 🏡
Cities provide endless types of entertainment, but many residents don't live in cities for their excitement, but for the career opportunities they offer. In the wake of the pandemic, contemporary urban living may seem significantly less attractive, particularly considering the cost involved.
Employees will be more inclined to work remotely, living in more cost-effective regions, and saving time and effort spent commuting. We could expect to see more workers in middle-class professions migrating away from big cities, as remote capabilities will have an impact on employment choices.
Companies shouldn't view this as ominous; instead they should embrace the change, and get ahead of the curve by implementing remote working policies. However, it should be noted that achieving the right balance is not necessarily easy. Businesses can lose some aspects of convenience when reducing face-to-face working.
But embracing the practice can be seen as a positive signal of intent from employers that are willing to make relevant changes, and are not stuck in an inflexible past.
Although remote working won't suit every industry, it will have a profound impact on the way we live, offering benefits from employers and employees alike. If we open our minds to this emerging innovation, we will all reap the reward.
This article was originally published by Luca Cartechini on medium.
---
Created by
Luca Cartechini
Early-stage investor focusing on FinTech, AI and Future of Work/Life. Previously Equity Associate at Jefferies and Financial Analyst at Bloomberg. Futurist Junkie | Sport Enthusiast | Lived in x5 Countries
--- ---
Related Articles