From working in Google to getting recognized as Queen of Content, Shruti Kaushik has a story to tell!
Let's hear out her journey and her views about the content industry in India!
Being from an engineering background, Shruti was accustomed to breaking down complex information into simpler forms. Her content is a reflection of the very same thing.
Not many would choose to leave their high-paying established job to dive into the unknown terrains of freelancing and that too in 2016, when it hadn't even flourished completely. But, such has been Shruti's belief and passion that she not only made the transition but quickly established herself as one of the best freelance writers of India. Let's hear out her journey and her views about the content industry in India!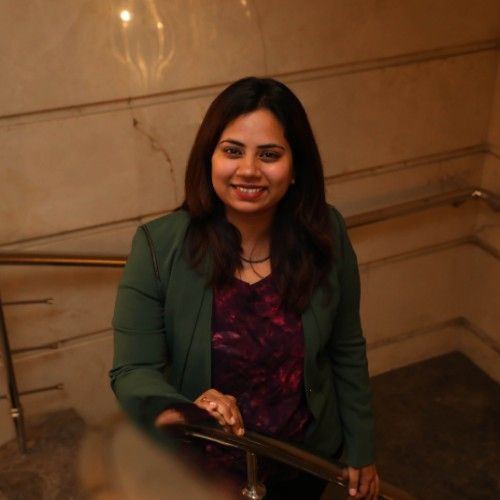 Tell us something about your life before getting into the content industry?
Unplanned and Exciting, to be honest. I had no plans until I was 25. All was set, had a good job, a personal life to be proud of, happy parents, and suddenly, the whole dynamics of my life changed. Like a snap. Few health concerns warned me to change my life course, so I did. I stepped back from the whole corporate playground, and I relaxed. This was 2015, and that's how I was introduced to Content (I mean freelancing). I started writing for a few good friends, then slowly for clients and then for my first client in 2016, March, that was KAKAKU, INC. Tech writing basically. So that was first my first experience with a big client.
At what point did you realise that you want to pursue a career in the field of content?
Mine was not a realization, but more like a compulsion. Although I was put into this line, full time through uneventful incidents, but it turned out well. If you would ask, an awakening moment, then there was none. This is the only thing, I know how to do, or this is the only thing, I feel I am good at.
Take us through your journey from your first project to getting recognized as Queen of Content By Femina Group!
There was something like a feature, I never knew that. I just randomly emailed plenty of big magazines, hoping I would be offered to write an article for free. But FEMINA happened the other way round. The title was a wonderful surprise.
About the journey, I never knew, I would become this capable, still, it's overwhelming for me. This whole shift from a corporate brat to an honest writer was a part of the most trying times of my life. For good and bad, both.
While allocating budget for their organization, many decision-makers in India tend to allocate a smaller budget for meeting their content requirements. To what extent do you believe it is true. If yes, what's the major reason behind this?
The major reason for a smaller decided budget for content is because there are many writers in the primary belt. Many writers today are ready to work on as low as 1 rpw, or even less. This makes a client easily questionable for the other GOOD writers. Now, a situation like this is no more about budget, it becomes more about profit and loss.
To one client query, there are 100 applications of writers who ask from 50 ppw to 3 ppw. It's obvious now, that a new client would make a mistake of picking the writers who won't be a burden on his pocket. What a client doesn't realize is that when they have a less experienced writer who has a limited virtue towards writing, the struggle on marketing front increases. You cannot market a content that is less appealing, no matter how many zeroes the marketing budget has. So investment in the right writer, will not cause a burden on the marketing budget. Good content sells itself.
In the current setup, how much difficult it is to be a freelance content writer in India?
It's not about writing. If anyone is passionate about his/her work, then success is assured, but hard work has to be proportional to ambitions. Talking about writing, one must have experience in corporate setup first, create a client base from there, and then move towards freelancing. Persistence is the answer at the end.
How should a content writer decide his/her pay scale?
Time invested, efforts in research, level of difficulty of the topic, and experience.
With the evolution of technology, what skills should a content writer possess to succeed in the content industry?
No Shakespearean English will get you where you want to be. Your content should be smart, interactive, engaging, and must convert a visitor into a customer.
Talking about freelancing in general, what is the biggest misconception people have?
People think a freelancer's life is a dead end. It might seem at times like that, no denying. But a corporate gimmick is not more than a joker's joke. Working for 9to5 to please that repulsive boss, and get that 5k increment, the next financial year, is not inspiring, but a fool's gold.
From the perspective of an organization, what are the major challenges in hiring a quality content writer?
Trust factor. Few clients have often come back to me, expressing their concerns on plagiarism and rephrasing factor. One thing for every writer to know, Google crawler knows that your blog has rephrased content. So pick your words, carefully.
While formulating the content strategy, what's the most important aspect to take care of?
Knowing your target audience and developing a brand story.
What to be your advice to any aspiring individual who wants to make a career in content in 2020
Connect with owners and founders more than content marketing and digital marketing agencies. Keep communications direct and avoid working for third party agents (you will never grow that way).
---
Ideas are easy, Implementation is Hard, learn from the ones who knows how to start. A Publication by Tealfeed.
--- ---
Related Articles