Workplace Stress, Mental Health and Emotional Well-Being
Depression, which emanates from persistent stress, is a serious issue affecting millennials at the workplace. Besides hindering work quality and productivity, stress-induced depression is impacting their personal and social lives.
Not too long ago, an ex-colleague included a single-line feedback about me in an anonymous online review about my now former employer. The reviewer suggested that I was a "narcissistic and depressed individual."
While I will refrain from discussing the appropriateness of calling me narcissistic, the assessment of calling me a depressed individual was spot on. Perhaps unknown to the person who wrote it, I had indeed been suffering from acute depression for several months. And the primary reason for that was workplace stress.
Depression, which emanates from persistent stress, is a serious issue affecting millennials at the workplace. Besides hindering work quality and productivity, stress-induced depression is impacting their personal and social lives.
Two recent surveys covering Indian professionals have highlighted the perils of workplace stress and its impact on their mental health and well-being. Recruitment specialist Michael Page surveyed 585 professionals, comprising millennials (Gen Y), across sectors and seniority levels.
The findings underscored, among other things, that the 'always-on' work culture among millennials was taking a toll on their mental health and resulting in lower quality of work.
Another survey, conducted by HR tech startup Hush, found that 50% of respondents (comprising 3,000 professionals in India across sectors) were experiencing some form of workplace depression. The Hush survey also highlighted that 22% employees were aware that their work performance was being affected by stress and a sense of being overworked, among other factors.
While addressing employee well-being at the workplace, the crucial dimension of mental health cannot be ignored. And workplace stress is an often-neglected aspect of mental health and well-being.
In May 2019, the World Health Organization (WHO) included 'burn-out' in the 11th Revision of the International Classification of Diseases (ICD-11) as an occupational phenomenon.
However, the WHO clarified that it was not classified as a medical condition. Burn-out was defined as "a syndrome conceptualized as resulting from chronic workplace stress that has not been successfully managed."
The WHO also clarified that "burn-out refers specifically to phenomena in the occupational context and should not be applied to describe experiences in other areas of life."
A collaborative study undertaken by Chestnut Global Partners (CGP) India and Society for Human Resource Management (SHRM) India in 2016 analyzed various dimensions related to workplace stress across three sectors – IT/ITES, Finance/Banking and Travel & Hospitality.
The study provided insights into the top stressors that impacted an organization's productivity. It was observed that disrespect at the workplace and lack of work-life balance were top stressors across the three sectors covered in the study.
Although workplace stress and its associated impact on mental health has been receiving greater attention recently, it is not a new phenomenon.
In 2007, the National Institute of Mental Health & Neurosciences (NIMHANS) conducted a first-of-its-kind mental health survey covering 100 professionals in India's IT hub, Bengaluru (then called Bangalore). Survey results highlighted the following:

Many Indian companies are realizing the gravity of the situation and taking concrete steps to ensure employee well-being.
Willis Towers Watson surveyed over 100 Indian organizations and senior HR leaders to understand strategies employed by them to address employee health and well-being.
Employer organizations identified stress (55%) as the second-highest lifestyle risk to employees, with lack of physical activity (62%) being the highest risk. Survey findings suggested that a key focus area for employers would be the prevention of workplace stress:
In 2018, 80% of organizations surveyed had undertaken at least one initiative to manage employee stress and mental health89% considered it their top priority to "identify and manage stress and behavioral health issues across the workforce"
The following were some of the initiatives undertaken by organizations to manage workplace stress and promote employee well-being in 2018: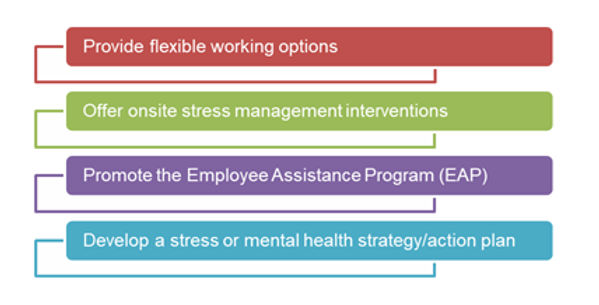 While these initiatives are surely a positive sign, experts believe that there is still a long way to go. Companies need to use more objective, data-oriented methods to identify specific causes of workplace stress and develop mental health interventions which address them.
To ensure that well-being programs are effective in reducing workplace stress, they must be designed in a comprehensive way such that all dimensions which impact employee well-being – physical health, mental health, financial health and personal considerations (including family) – are taken into account.
Instead of adopting a passive approach, companies need to combat workplace stress actively and with concrete, evidence-based interventions. Companies are also implementing Employee Assistance Programs (EAPs) to address both professional and personal issues which can lead to employee stress, depression and anxiety.
One of the best pieces of advice I ever got was from a horse master. He told me to go slow to go fast. I think that applies to everything in life. We live as though there aren't enough hours in the day but if we do each thing calmly and carefully we will get it done quicker and with much less stress. (Viggo Mortensen)
---
Founder and Managing Partner, Alum Knight Partners
--- ---
Related Articles