How to Write a Freelance Writing Proposal: Step-by-Step Beginner's Guide
Create proposals that position your writing services as the cure to your client's pain points
Photo by NeONBRAND on Unsplash
You can write impeccable articles and blog posts, but did you learn how to write a freelance writing proposal? Clients are bombarded with generic off-the-shelf proposals — does yours stand out from the crowd?
A well-written proposal can open doors, impress prospects and land paid clients. But knowing where to start — how to structure and write it — can be confusing. Keep reading to learn step-by-step how to craft your freelance writing proposal.
What's inside.
How to Write a Freelance Writing Proposal in 5 Steps
The main sections of your proposal should include:
Overview
Description of the problem
Proposed solution
Process and timeline
Packages and pricing
Step 1: Give an overview.
Writing your proposal overview is similar to writing a cover letter. It should include the familiar formalities — introduce yourself and thank them for their interest in working with you.

Next, introduce your results and experience. Outline your track record. This can include notable past clients you've worked with, metrics you helped them achieve (e.g., ranking on search engines, increased traffic/sales) and a testimonial from a satisfied client.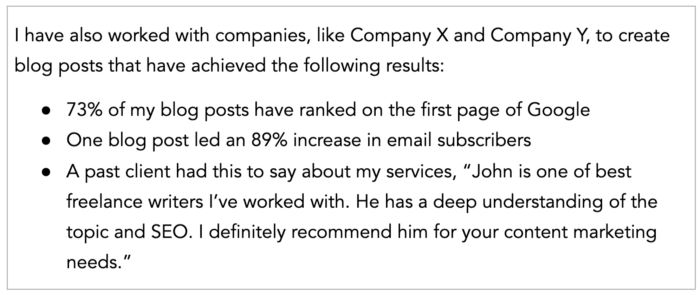 Step 2: Describe the problem.
Step into your target client's shoes for a moment. What are the pain points they're experiencing? A busy editor from a big company may be thinking:
I have limited time and resources and need a competent writer that knows their stuff.
Past writers have submitted shoddy work with poor grammar and structure.
I need writers who can deliver content in a consumer-centric and on-brand style writing style.
Writers who missed deadlines threw a wrench in our publishing schedule.
Generic writers just don't know enough about the industry and subject to write with authority.
A solopreneur trying to grow their brand may experience different pain points. For instance, they may need a writer who is more involved and come up with content ideas and do keyword research on their own.
Understand what problems your target client is facing and repeat it back to them.
Step 3: Propose your solution.
What do you bring to the table? In other words, how will your writing services resolve the pain points addressed earlier? Go point-by-point and elaborate how you are the solution they are seeking.
Problem: Generic writers just don't know enough about the legal industry and subject to write with authority.
Solution: I've been writing about legal advice for two years now and also worked for a law firm for two years. I have a deep grasp of complex legal concepts and understand how to explain them to the average reader seeking legal advice.
If the client's pain point is they need to deliver authoritative content with expert sources, you might want to include you have an extensive network you can lean on.
If you want to work with that solopreneur that needs a more hands-on writer, describe your experience with keyword research and managing a content calendar.
Step 4: Outline the process and timeline.
This section shows the client what it looks like to work with you. You should outline the different steps of the process and dive into each with more information. Also, mention if there's anything you require from the client.
The process for writing a blog post might look like this:
Send me a completed content brief: This document will outline the topic you want to explore, the main points you want to address and keywords you want to target.
Review my outline: I'll create a comprehensive outline on Google Docs based on your content brief. If you like what you see, send it over for approval.
Sit back and relax: I'll get to work on that blog post and get to you within 5 business days. With all that extra time on your hands, kick back and enjoy your favorite beverage.
Time for revisions: I'll send over the first draft via Google Docs. You return it with your comments (if any). I provide 2 rounds of free revisions.
Final draft: After polishing and refining, you get your completed blog post. (Yay!)
Step 5: State your packages and prices.
In this section, describe your pricing and payment terms:
Outline your rates and pricing structure. Freelance writers generally charge by word count or a flat fee, but others may enforce an hourly fee. It may be helpful to use tables or graphs to distinguish the different packages you may offer. Here is an article proposal example for pricing:

Specify any different services and pricing structures you offer. You may charge a flat rate for blog posts but charge hourly for one-on-one consulting or by word count for copyediting and proofreading.
Don't forget your revisions policy. I typically offer two rounds of revisions and charge an additional 10% for any additional rounds.
Clearly state your payment terms. Explain how you collect payment (credit card, direct deposit, etc.). If you require a down payment or require invoices to be paid within a certain timeframe, include that here.
Freelance Writing Proposal Template
You may need additional guidance on how to write a freelance proposal. Following a freelance writing proposal sample or template can save you time on writing and structuring.
The freelance writer template by PandaDoc or AND.CO can be a good start. Be sure to change, add and subtract based on your own business specifics.
Tips for Writing a Well-Polished Freelance Writing Proposal
The following tips can help take your freelance proposal to the next level:
Tailor the proposal to each prospect: Similar to creating a cover letter for a traditional job application, tailor it to the company. If you're pitching a company dedicated to eco-friendly solutions, mention how their mission statement or culture resonates with you in your proposal overview.
Sprinkle testimonials throughout: Testimonials serve as social proof that you've worked with past clients and delivered results. Instead of being a risky bet, prospects will view you as a seasoned professional with satisfied clients.
Rely on numbers, statistics and percentages: Hard data is more convincing (and eye-catching) than general assertions. "Increased website traffic by 422%" versus "boosted traffic" — which is more compelling?
Highlight your unique qualifications: If you have relevant credentials, like a college degree or certification, highlight them. If you sell financial writing services and you've spent a decade in financial consulting, for example, be sure the prospect knows.
Freelance Writing Proposal FAQs
What is a freelance proposal?
A freelancer proposal is a document that describes how your services deliver a targeted solution to a specific problem the prospect is facing. For freelance writers, that typically involves content writing or copywriting to help increase traffic.
How do you write a freelance proposal?
A freelance writing proposal typically involves at least five sections: the overview, the problem the company is facing, your proposed solution, your process and timeline and your pricing information.
How much should a freelance writer charge?
Multiple variables can influence pricing, including experience, industry, company size and budget. Beginner freelance writers often charge up to $0.01 to $0.10, according to ClearVoice.
How do I start freelance writing for beginners?
If you don't have a freelance writing portfolio, focus on creating writing samples — publishing to Medium publications or guest blogging can be a nice start.
Choosing a niche upfront can help you create relevant freelance article writing samples to use when pitching prospective clients. After, you can start looking for freelance writing jobs from online job boards or cold-emailing companies.
---
Dan is a freelance writer specializing in small business and personal finance. He works with FinTech and B2B companies and has written extensively about small business, from startup guides to payment processor reviews. Hire him to write for YOU at danmarticio.com.
--- ---
Related Articles