How Writing Gave Birth To My New Business
Crisis does pave the way for opportunity.
As a writer, I am always on the lookout for subject matter that I find genuinely interesting, and the corona crisis triggered deep reflective thinking that inspired most of my writing this year. How else do you make sense of the uncertainty but by reflecting on things that you think had gone wrong? How else but through writing can you atone for your sins?
But I am way past that now. I have finally concluded long bouts of grieving and soul searching. I am ready to live with the virus.
The Reality
I have fully accepted that I will be spending the next five years still hunkered down with my aging parents. One of them has Alzheimer's disease, whose needs require vast reserves of patience that I cannot bring myself to outsource to hired help (in due time, perhaps, as I am not a professional caregiver).
I have self-imposed limited mobility and public exposure to reduce the risk of infecting my family. I will not be traveling overseas unless absolutely necessary. I must retrofit my life according to my current realities and help ensure a hospitable living and working environment for me and my family.
The lockdown effectively shut down my practice as a non-profit and communications consultant, but it still seemed like a viable career option in the new normal.
Surely there are still organizations looking for strategic communications specialists with management experience? Maybe even in the health, food, science, or environmental sectors where I intend to pivot? They must have overcome and worked around the rough patch by now and are actively recruiting. There has got to be someone out there whose professional requirements demand the expertise I provide, right?
The answer is yes, but as I reviewed a good amount of job descriptions that I had applied for in the last seven months, I noticed that the work hours for the jobs that I wanted have not changed. Companies that are actively recruiting still require full-time workers to subscribe to the 9–5 grind even as they work from home.
These firms that were already forced to work remotely have yet to fully embrace the value of working asynchronously, that is, working based on output rather than on time, which makes remote working effective.
They are still stuck in the Industrial Age! Yet here we are, at a pivotal moment in history, where the obsolescence of the way we work is now fully out in the open.
There is no way I can work effectively from 9–5 when I do the brunt of household work such as cooking and dishwashing and a host of other essential errands such as car maintenance and bank transactions, almost daily. What I can do is think deeply, and clearly articulate solutions to organizational problems when they are most needed on my own time.
If all potential client bosses expect that I pick up the phone while I am cleaning the oven, then perhaps my career in strategic communications is over.
I knew I had to pivot dramatically because funds are getting scarce. It no longer makes sense to wait and hope to get hired in extremely tough times. I will keep my options open, of course, but I won't bet the farm on it. It is time to act.
The Process
I took some time to evaluate my situation to analyze its strengths vis-a-vis my strengths. Here's what I found:
I don't have to pay rent.
I have free access to an office, a laptop, and an Internet connection.
I have free access to a vehicle.
I no longer spend 4 hours commuting to and from work.
I spend at least 4 hours in the kitchen every day cooking and washing the dishes.
When I made this assessment, I was brainstorming for writing topics, and the last item stood out. Given the significant amount of time I now spend in the kitchen, it made sense to me to write about that more. I have avidly written about food before but as a foodie, so it was the romance more than the process that inspired my writing.
The pandemic has forced me to modify that process. I have undergone a massive transition towards healthier eating, from how I substitute ingredients with plant-based alternatives to minimizing waste by creating my own vegetable stock. I eat what I cook most, and can hardly remember when I last had fast food.
I have been working on achieving some mastery of basic culinary skills, such as tearless onion slicing and gherkin pickling.
I have been globetrotting without a passport by recreating dishes from countries I have yet to visit, such as the shakshuka which is popular in Israel. It is the logical next step for a peripatetic explorer like me with no overseas travel plans until the crisis is over.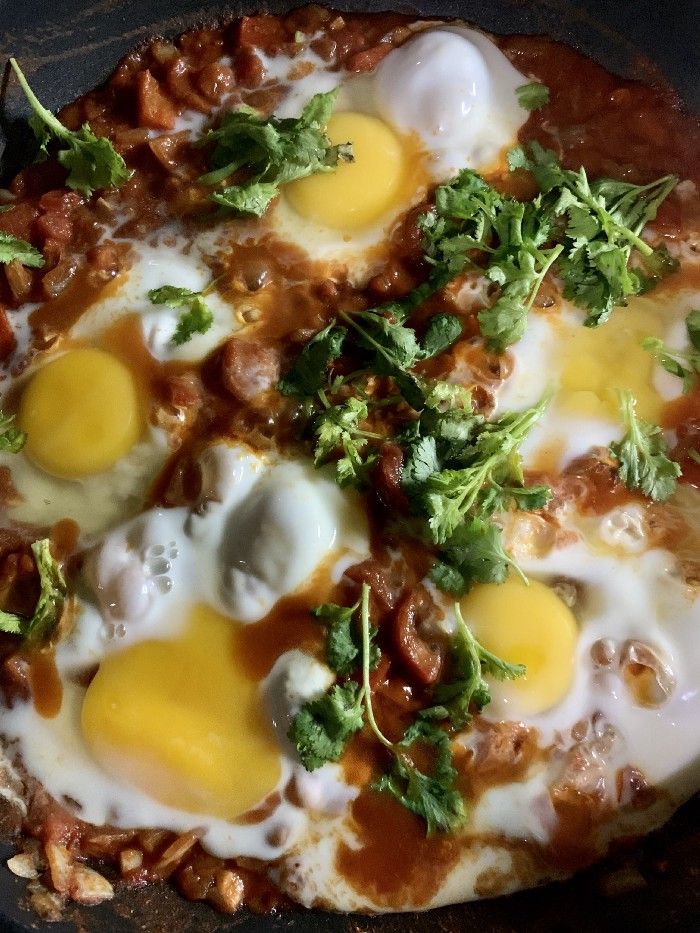 Homemade shakshuka which I hope to make again soon
The Project
I chose to write about bread because I only learned how to bake in March, almost as soon as the lockdown orders were imposed. As I mentioned in this article, my aversion to white commercial bread forced me to learn to bake my own. Successful on my first try, I was determined to bake all the bread there is to master the craft.
Thinking back on my North American cross-country adventure last year, I decided to recreate a life-changing food experience — the Montreal bagel by St. Viateur. The everything bagel was delicious on its own and not as dense as the more typical New York bagel. It was the best ever for me, and I knew my family and friends will get a kick out of it if I do it right.
I have already baked different types of bread, but this would be my first attempt at making a bagel of any kind. By baker standards, I am, at best, very amateur, so I had my work cut out for me. Bagels are shaped and poached before they are baked. That part is not challenging, but they are additional steps. They complicate the process of coming out with something edible. Thankfully, the outcome of my first try was decent enough to merit a taste test.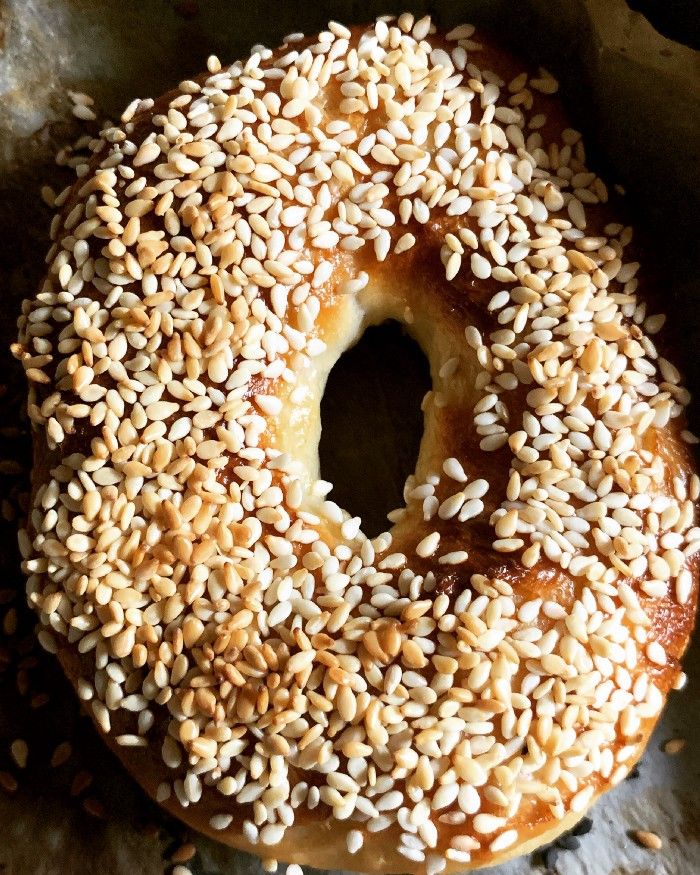 My version of the sesame Montreal style bagel
I managed to create something that actually brought people together.
The Response
My folks are my hapless guinea pigs who sample everything I make. Over time, food has become our release valve for conflict. No one is fiercely irritable to another because of hunger. The in-fighting that tends to arise from the absence of space in the early days of the lockdown has greatly diminished. In its place is freshly-baked bread, the familial armistice signed in the late afternoon hours, when our home aromatically transforms into our local bakery.
I do recognize how fortunate we are that we can still afford such luxuries, that food is our munition for peace, whereas, in some parts of the Middle East, bread is now being rationed.
"I have to wake up every day at 3 am and go to the bakery and wait three hours in line so I can buy bread, then go home and get dressed and go to work, but four pieces of bread is [sic] nowhere near enough to feed my children," said Abu Yasser, a resident of Syria.
There is so much to be grateful for, especially in these hard times. It only makes sense to offload some of that positive energy and pass it on to others.
The first bagel recipe I used yielded 16 bagels, too much to consume for a family of three. So I reached out to some of my neighbors — friends from my childhood — who, before the pandemic, I would see only once a year, usually around Christmas time.
They welcomed the free food (because really, who wouldn't?) and I assured them, the feedback in exchange for complimentary victuals is far more essential. I promised that I would be sending over more bagels and other types of bread as long as I could barter for the truth.
They agreed. This spurred a series of short but relaxing respites from pandemic life, where we would catch up on each other's lives while they honestly critiqued my work.
The quarantine, which we knew we would be stuck in indefinitely, became less dreary.
On my tenth attempt, my vegan version of the Montreal bagel was not only palatable but pleasurable. My friends became my first customers, who behave more like stakeholders.
They are genuine in their praise and honest in their feedback until the quality of bread that they know will sell is finally achieved. They want me to succeed. So we now have weekly testing sessions that are a reprisal of our summer sojourns at the park when we were growing up.
This would not have been possible without the pandemic.
I gradually expanded my circle by sharing my work on private chat groups. These are friends from high school, college, work, and my band. Some of them had a tough period adjusting to the sudden work-home symbiosis, bereft of time to embark on the kitchen experiments I was doing and sharing. I was not only baking (and braiding!) homemade bread.
I was trying out all sorts of plant-based recipes and ingredients, from baked falafels and hummus to vegan cream cheese and oregano pesto. For some who had pre-existing medical conditions, I would recommend, almost to the point of forcing it upon them, the vegan varieties.
For others who have kids who are hard to feed, I made dark chocolate desserts that camouflaged the vitamin A, potassium, and manganese found in zucchini that make fudgy brownies fudgy.
I soon realized that my bespoke approach to healthy food is the service I had wished were more common in my local community. Filipinos are die-hard suckers for meat, and while I do love our cuisine, I am more fanatical about my greens. It is a gap I am now trying to fill through healthier artisanal bread, in much the same way that the Sweet Greens of the world are enabling their customers to customize their salads, but with a more personal touch.
Instant messaging chat groups are a lifeline in a crisis. They are a great source of advice, from where to get testing kits to contact information of vegetable farmers who deliver. When there is food in the mix, it becomes a virtual feast and a mobile marketplace especially when I finally launched my home bakery business on Instagram.
Despite my aversion to social media, I created the account to avoid fully outsourcing the marketing side of my enterprise to my friends and their word-of-mouth advertising. It is still a useful platform for short-form food blogging (why I made bagels in the first place) and generating orders from strangers (the goal of any profitable business).
There is so much to be grateful for, especially in these hard times. It only makes sense to offload some of that positive energy and pass it on to others.
The Future
Writing has been a source of tremendous power for me, ever since I wrote my first poem at the age of 7. It has taken me places, from writing speeches for a head of state, to studying abroad, to learning more about the environment, to now creating something with my own hands through an ancient craft.
I did not expect it, but I fully embrace it. I was writing to find solace amidst the suffering, but it seems to have gifted me with an opportunity to provide even more comfort in a crisis.
As a newly minted baker and small business owner, I have been simultaneously learning about the science of bread baking from Nathan Myhrvold and the role of artisanal bread in promoting localized economies and efficient food supply chains. I had previously studied and written about the latter stuff but without first-hand experience.
This new adventure adds conviction to my writing, which I hope will build my confidence in talking about food as medicine — the fulcrum of my ongoing health advocacy.
I have no grand plans for my new venture except to keep it small, personal, and profitable. What truly excites me about it is how the execution provides independence of thought. I started this thing from scratch. I manage everything, from product development to the administrative minutiae.
What I will go through is different from what other entrepreneurs go through. My story has, therefore, never been written before. For a writer always on the lookout for curiosities to write about, this new adventure certainly makes the grade and there is much to look forward to, corona times notwithstanding.
---
--- ---
Related Articles