Yes, I am quitting an amazing job.
A look back at the last three years and ahead to the future.
I've decided to quit my job after three amazing years.
The last three years have been full of challenges, learning, fantastic collaboration, and tremendous personal growth. I have spent a lot of time confronting the person I am and learning to appreciate my strengths while critically analyzing my weaknesses in this role.
Through this process, I've gained clarity about the person I want to be and a better sense of the types of opportunities I should pursue in the future.
I joined the Group precisely three years ago to the day, with the mission of "being an enthusiast of Artificial Intelligence, supporting the AI & ML Center of Excellence on becoming a trusted hub for AI literacy and implementation."
I have to say that it was a role that I felt perfectly suited for me since the first day, after some very productive years at IBM, where I had the opportunity to start and consolidate my journey in the AI field.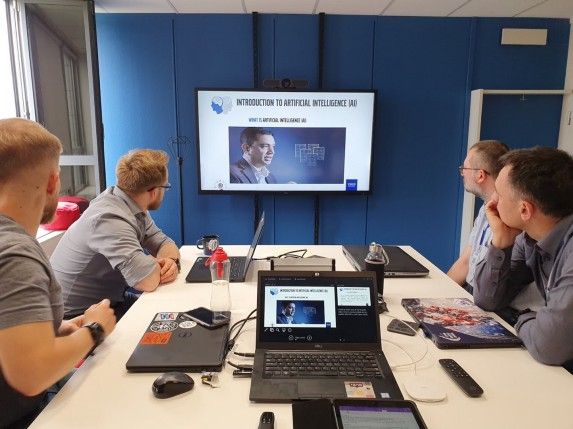 Building AI Literacy every day!
In my role at the Volvo Group, I leveraged a unique combination of interpersonal and technical skills and a passion for innovation with a strategic and proactive approach to engineer and demonstrate the business value of Artificial Intelligence.
During these years, I learned a lot. I also shared a lot of knowledge about Conversational AI, Machine Learning, Natural Language Processing, and Computer Vision, helping to promote the development and integrations of AI solutions across the Group, designing and delivering hundreds of awareness and educational presentations about the technology, and speaking at several well-attended events around the world, among other things.
But, during these transformative years for both the Volvo Group and me, I also had the opportunity to work with and learn from incredible people who are top leaders in the automotive industry, as we collaborated on the design and implementation of a large number of proofs-of-concept, prototypes, and products capable of delivering measurable value to the company.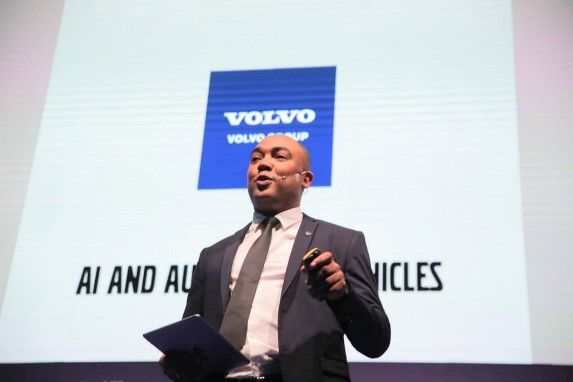 A one-of-a-kind role in the AI transformation
One of the most rewarding aspects of my role at Volvo Group was the opportunity to solidify my position as a Business Evangelist for AI with a focus on communication and strategy.
I had incredible opportunities to learn from my peers and leaders and observe how some of the industry's smartest engineers dealt with an evolving market and technology.
My team's mission is to innovate and try new things, and this mission provided me with opportunities to learn and work on important engagements with AI as a northern star.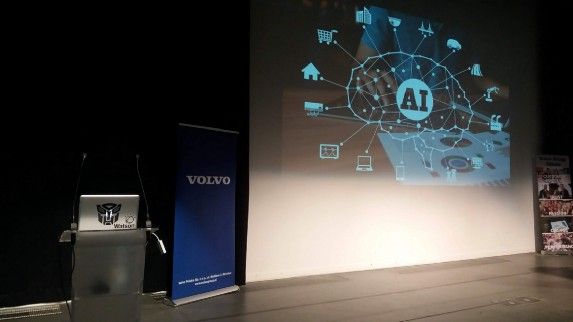 Leaving the campsite better than I found it
You know that story: good campers follow the rule "Leave the campsite better than you found it" when out backpacking in the woods. I think it is a good rule for backpacking, but also for life and work.
I went to the Volvo Group to help structure the Center of Excellence and to help to build an AI culture among the IT community. I am leaving with a strong sensation that we had accomplished this mission up to here, setting the basis for a bright future of AI and Data literacy in the community.
I will always be happy and proud of the fact that thousands of people in the Volvo Group across those years have heard about AI, learned about AI, and many of them have started to develop solutions using AI, thanks to the huge work of awareness and communication that the AI & ML Center of Excellence performed during these years.
The work done for sure will be an important brick on the way for a future AI-driven company.
The "thank you" part.
I have to thank a lot of people with whom I have worked hard all over the past three years, starting from the talent recruiter who was the very first person who believed in me, putting me in a way that all this could happen and thanks to all my managers who also believed in me for this role with the mission to become a reliable partner in the development of Artificial Intelligence in the Volvo Group.
Also, I had the privilege of build many collaborations with different teams that made my daily activities challenging and exciting, and I hope that someday we can find each other in some way and maybe start new collaborations. Thank you all!
The future
As I wrote last week, this is a great moment to look for a new job in Artificial Intelligence, and while I am moving on to the next chapter of my professional life, I am very excited about it, which will undoubtedly represent a significant advancement in my career.
Of course, before making life-changing career decisions like this one, I had the opportunity to reflect a lot about it and I feel privileged to have the opportunity to choose what my next job based on my own career framework.
I am confident that there is plenty of good work in the AI field to be done, and I will do my best to make it the most satisfying and impactful thing I can do with it. Always having fun… of course!
Stay tuned if you want to follow me in this new journey!
---
A highly engaged and innovative AI Strategist. Passionate about communication, with a broad I.T. Management and AI background.
--- ---
Related Articles